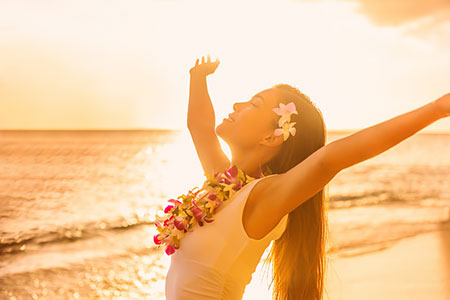 I was introduced to the Ho'oponopono prayer several years ago by a friend I met at a meditation group. She told me that it is an ancient Hawaiian custom that can be used to resolve karmic issues in life. So, of course, I tried it, but with mixed results.
It is a simple, yet powerful three-line prayer:
I am sorry. Please forgive me. Thank you. I love you.
I did not fully comprehend it at the time, but even in my lack of understanding, I still experienced some results. Then I reached a point in life where I was experiencing a lot of personal difficulties, and suddenly this simple prayer took on a whole new meaning for me.
It was at a time when I had lost three loved ones in short space of time, and I was going through an intense grieving process and associated life challenges. I figured trying out this prayer again certainly couldn't hurt. So, for a few days, I made a conscious effort to repeat this mantra in my mind.
I am sorry. Please forgive me. Thank you. I love you.
Then I came across a certification program Ho'oponopono. It is a seminar over multiple days. I had the time and resources to enroll, so it felt like destiny. I then learned a lot more about Ho'oponopono and came to realize it is not nearly as simple as I had originally thought.
The term Ho'oponopono means 'to make right what is already right.' The prayer itself is only part of the practice. As a spiritual endeavor Ho'oponopono is about untangling the patterns and blockages that contribute to the challenges we experience in this life. The prayer itself is merely a conduit to experiencing Ho'oponopono, or 'making right what is already right.'
The Ho'oponopono prayer is intended to move the practitioner into a state of consciousness that is love, free from things like fear, worry, resentment, blame, guilt, criticism, judgment, desire for vengeance, jealousy, and so on.