Horoscopes
Daily Horoscopes For Monday July 4, 2022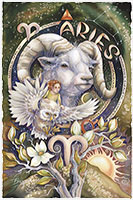 Aries March 21st - April 20th: Separating yourself from the crowd may seem a bit difficult today, and yet you'll be compelled to do things independently under the Virgo Moon. Take the initiative to clear up a health issue by googling for more information or asking the advice of a professional. Double-check all your appointments for the week or you could miss an important meeting. You'll be inspired to express your individuality more and more this week, thanks to your empowering tarot card, the carefree and adventurous Fool.

KEEP IN MIND: The most fascinating thing about you is YOU! Show the world who you really are today.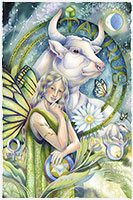 Taurus April 21st - May 20th: Everyone will come to you with their problems under today's Virgo Moon, as they trust your fair and objective ways. Your enthusiasm for a project will increase when you discover there's a more creative and fun way to approach it! Now that you've restored your financial balance, feel free to splurge on a decadent purchase this evening. Your tarot card the World will help you integrate recent experience with current beliefs this week and, in the process, enhance your spiritual growth and understanding.

KEEP IN MIND: Perception is the key to getting through this day with inner peace. Translation? If you're handed lemons, you know what to do.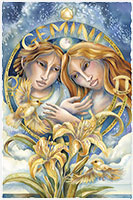 Gemini May 21st - June 21st: When one door closes, you'll soon discover an open window to your goals, so remain positive and be open to the possibilities today. A bill you forgot to pay could throw your budget off, but thanks to the Virgo Moon, you'll be able to discover and correct the error in the nick of time. Your tarot card this week is the Lovers, so make personal relationships a priority and remember to honor both the feminine and masculine sides of yourself as you strive for ultimate balance.

KEEP IN MIND: Everyone makes a mistake now and then, so don't beat yourself up over it; simply take the actions to fix it and move on.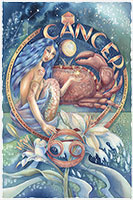 Cancer June 22nd - July 22nd: The Cancer Sun will encourage you to be diligent about taking care of your responsibilities first thing this morning because, by noon, things will start getting more chaotic. Journal or meditate under the Virgo Moon if you start to feel out of balance midday, as it's the ideal way to restore your inner contentment. Your tarot card The Hanged Man will help you practice the art of patience this week, as things won't move as fast as you'd like, no matter what you do!

KEEP IN MIND: There's no use fighting the astrological trends today; do what you can and then turn the remainder of the day over to Spirit to handle.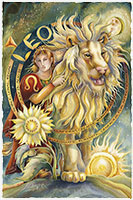 Leo July 23rd - August 22nd: Your assumptions could be challenged under the eye-opening Virgo Moon, so be prepared to look at things from a different perspective today. Make sure you've done all you can to resolve a situation, and then let go and turn it over to the Universe. Justice is your Tarot card this week and can help you to balance intent with action. This will be crucial as you prepare to make important decisions over the next seven days.

KEEP IN MIND: This could prove a head-turning day for you; keep your expectations low and your mind on high alert!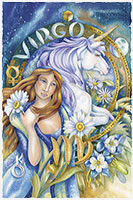 Virgo August 23rd - September 22nd: You could find yourself retreating into the background under today's mystical Virgo Moon. Engage in some meditation or journaling to unravel any confusing feelings or information that arises under the Cancer Sun. Money shortages are simply the Universe's way of reminding you that it's time for a change in your budgeting strategy. Your tarot card the Empress will remind you to honor the feminine side of your nature this week, by simply trusting your intuition more.

KEEP IN MIND: Stay close to Spirit today, as most of what occurs will be out of your hands.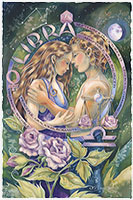 Libra September 23rd - October 23rd: Avoid making unnecessary expenditures today, as temptation is sure to come at you from every direction under the Cancer Sun. As far as personal relationships go, you need to maintain your boundaries and individuality while continuing to uphold your commitments to loved ones. Under the Virgo Moon, taking care of yourself should be a priority tonight, no matter who tries to get your attention. Your tarot card is the Sun, which will help you move through this active week with grace, energy, and confidence.

KEEP IN MIND: You're prone to taking care of everyone but yourself, so tonight, take the phone off the hook and hide out with a good book, preferably in a relaxing bath surrounded by candles.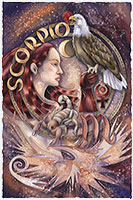 Scorpio October 24th - November 21st: To resolve a personal conflict that arises today, you'll need to retreat inward for the answers. In doing so, you'll bypass hurt feelings and misunderstandings so you can discover the spiritual reasons why an aspect of your life has been so frustrating. Make more time for devotional practices such as meditation and journaling under the Virgo Moon. The commitments you make to yourself and others will be easy to honor this week, thanks to your tarot card, the Hierophant.

KEEP IN MIND: Trying to handle things yourself isn't working; stop and ask Spirit for direction to get the answers you're looking for.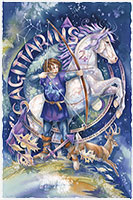 Sagittarius November 22nd - December 21st: Today's Virgo Moon will remind you to give thanks for all the help you've received from the Universe this past few weeks. Not only have major problems been resolved, but you've gained the ability to walk through life challenges with balance and integrity. You'll need to reschedule your entire week by mid-afternoon when deadlines on a project get moved up. Your tarot card Strength will make it easy to endure the ups and downs of this week.

KEEP IN MIND: It's a great idea to review all the help Spirit's given you lately; it's a blessing to know that even when we can't see it, the Universe has things well in hand.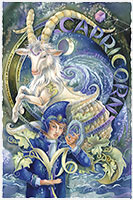 Capricorn December 22nd - January 19th: The Cancer Sun will help you consider both sides of a situation more objectively so you can make clearer and more informed decisions. Don't become frustrated if you can't get anything productive done under the indecisive Virgo Moon, as you'll make more progress attending to your spiritual and emotional needs instead. Trusting your own opinions, intuitions, and desires will be easier than ever this week, thanks to your tarot card, the confident High Priestess.

KEEP IN MIND: Sit down and make a pro/pro list regarding a decision you're facing; one column is for the pros of saying yes, the other, for the pros of saying no!


Aquarius January 20th - February 18th: The Cancer Sun will inspire a time of simple joy and personal nurturing, so if you can swing it, take the day off and just relax. Try not to think about all you have to get done, promising yourself that you'll pick up the ball again tomorrow. A phone call from a faraway loved one will bring wonderful news this evening, a gift of the Virgo Moon. Your Tarot card the Moon will alert you that all is not as it seems and reminds you to put your trust in Spirit, no matter what unfolds around you this week.

KEEP IN MIND: It doesn't count as relaxing if you spend all your time fretting about what you "should" be doing; put it out of your mind with a guided meditation and then turn your focus to the joy of each moment.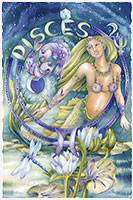 Pisces February 19th - March 20th: Your advice to someone else will serve you as well today, as the insights you share generate personal clarity for you both! The Cancer Sun will promote personal growth, as it eliminates unfounded fear and encourages you to express your deepest feelings. Keep your evening flexible so you can accept a last-minute invitation that comes your way under the Virgo Moon. Your tarot card the Wheel of Fortune promises great success when you take a chance on luck or love this week!

KEEP IN MIND: You're quick to give advice to someone else, but are you willing to take it too?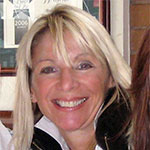 Meet The Artist: The stunning zodiac sign artwork depicted on this page is the copyrighted &copy work of Jody Bergsma. Jody has a diverse painting style that has developed over many years and literally thousands of paintings. Her earliest works were charming children's illustrations that she sold at Northwest art shows to pay for her education. Please take a few moments and treat yourself to the artwork of Jody. Prints, mugs, magnets available. Just click... http://www.bergsma.com