Horoscopes
Daily Horoscopes For Wednesday December 7, 2022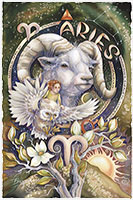 Aries March 21st - April 20th: The Sagittarius Sun could inspire you to make a dramatic change to your appearance, one designed to show off the new you! Someone could misread your intentions and become upset or angry if you move in unexpected ways, exasperated by the Gemini full Moon. You may be taken aback by their sensitive reactions, but you'll be able to straighten things out with a brief explanation of where you are coming from, and why. Make time to socialize with your favorite people tonight, in person or by phone.

KEEP IN MIND: Do your own thing today, even if it might throw others off balance!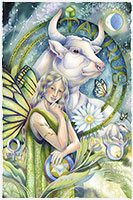 Taurus April 21st - May 20th: You'll need to put the brakes on this morning if you find yourself thinking about spending even more money than you already have! You can improve your closest relationships by listening more closely rather than focusing on what you want to say while they are talking. Practicing a little give and take will work wonders under the Gemini full Moon, so be willing to compromise on your original plans to accommodate loved ones this evening.

KEEP IN MIND: Slow down! You're caught up in the rush of the season, but remember, moderation is always a good thing.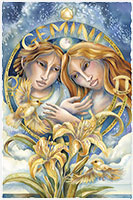 Gemini May 21st - June 21st: Consider this an "aha" day, as every time you pause for a second, you'll remember something you forgot to do! You could discover a few gifts you tucked away last summer that need to be put under the tree, so get them wrapped and tagged. The Gemini full Moon will have you considering advanced education or training as a way to put you in a more powerful position at work in 2023, so do a little research and see what your options are.

KEEP IN MIND: If you'll stop every hour or so and take a breath, you'll give Spirit a chance to remind you of some things you've forgotten about!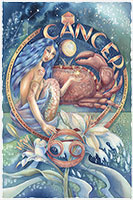 Cancer June 22nd - July 22nd: The Gemini full Moon will move you through any unfinished projects or organizing you need to get out of the way this week, restoring balance to your movements. The Sagittarius Sun could bring some unresolved issues to the surface for healing, inspiring you to forgive or be forgiven by a loved one so you can both move into the future with a fresh start. Once you do, you'll feel a new freedom and renewed energy!

KEEP IN MIND: This is the perfect time of year to make amends or restore balance to your closest relationships. That way, you can move into 2023 with a clean slate!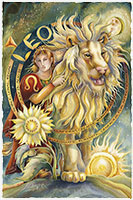 Leo July 23rd - August 22nd: You'll find yourself in the midst of high activity under today's Gemini full Moon, as everyone scrambles to take care of last-minute details. You may have to be the voice of reason when an argument breaks out between loved ones; luckily, you'll know just what to say to restore the peace. Be patient with a friend or family member who can't seem to make a decision today; they'll figure out what they want by tomorrow, so just sit in limbo until they do.

KEEP IN MIND: Thank goodness you have a gift for making people feel at ease; you'll use it today!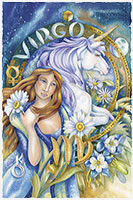 Virgo August 23rd - September 22nd: To operate at your best today, engage in an early morning meditation to center and balance your thoughts. Then you should put on your running shoes, as the Sagittarius Sun will have you moving at top speed. A forgotten work obligation could break your pace midday, but you'll have to attend it in order to move through the holidays guilt-free. Though you may feel dismayed that some of your loved ones are far away, chatting with them by phone under the Gemini full Moon will help.

KEEP IN MIND: Get ready to jump when an unexpected obligation shows up; even though you're knee-deep in the holiday spirit, you'll have to pause and take care of business today.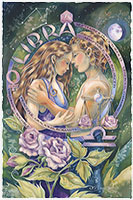 Libra September 23rd - October 23rd: Stop and pause today to regroup and take care of some personal needs that have fallen through the cracks. Map out a game plan on how to create more order, balance, and stability in the coming months, and then do some research on the internet for fresh ideas. Practice caution when you're on the road, as others just aren't paying attention! Under this evening's Gemini full Moon, take the time to meditate about the abundance and love that surrounds you.

KEEP IN MIND: Be open to suggestions today and do a little research to see how others are managing to pull off what you'd like to accomplish.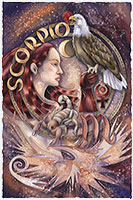 Scorpio October 24th - November 21st: You'll build deeper levels of intimacy and trust as you share sentiments with a loved one today. Resist the urge to spend more money on last-minute gifts and be satisfied with what you've already bought. The Gemini full Moon will remind you to slow down, relax, and enjoy the day; your work is done. This is also an ideal time to replenish your inner spirit, so take a walk in nature, meditate and reclaim that peace and balance that's been hard to maintain these last few weeks.

KEEP IN MIND: Slow down and take a break today; don't worry, as you'll accomplish much more by turning things over to Spirit.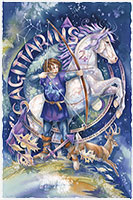 Sagittarius November 22nd - December 21st: Your enthusiasm for the season will grow stronger under the Gemini full Moon, compelling you to contemplate what else you can do for the loved ones in your life. Don't forget to take care of yourself too, as it's easy to skip disciplines or ignore your own needs with so much going on! Plan to be up late this evening, immersed in a creative project or riveting novel. In fact, you may not get any sleep at all, so promise yourself a nap this weekend to catch up on your rest.

KEEP IN MIND: You'll be moving into high gear today, so be sure to wear your running shoes!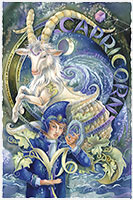 Capricorn December 22nd - January 19th: You'll move through the day with grace as the Gemini full Moon casts a contented and idealistic aura over you. Reach out to loved ones you won't be able to see next week, to wish them a happy and prosperous new year. Give your checking account a quick once-over, just to make sure you haven't gone overboard on spending. Tonight, take the time to meditate about all the joys and abundance you've experienced this year.

KEEP IN MIND: Your sentimental side will direct your movements today; share your feelings with others.


Aquarius January 20th - February 18th: Your focus will turn to loved ones you can't be with this season, which could result in feelings of loneliness and longing, even if you're surrounded by other people. Reach out to them by email or phone if you can, or send spiritual messages via an early morning meditation. Once you shift your focus to what is, rather than what isn't, your mood will brighten. You'll be tempted to indulge under this evening's Gemini full Moon, but with a new year just around the corner, you can make up for overdoing it then.

KEEP IN MIND: Even though you can't be with all the people you love this season, take the time to reach out to them, whether they're far away or residing in the spirit world.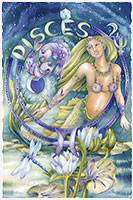 Pisces February 19th - March 20th: The over-indulgences you've engaged in this week could slow your movements and keep you out of sorts for most of the day. Just promise yourself you'll get back on track by New Year's Day to erase any guilt you might be feeling. The Gemini full Moon will bring out your entertaining side, inspiring you to invite a few extra people over to join in your celebrations. A loved one will try to sway you with high drama or emotionalism this evening: In honor of the season, humor them.

KEEP IN MIND: Don't waste time beating yourself up if you've gone a bit overboard this season; a fresh start is just around the corner!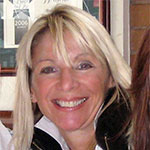 Meet The Artist: The stunning zodiac sign artwork depicted on this page is the copyrighted &copy work of Jody Bergsma. Jody has a diverse painting style that has developed over many years and literally thousands of paintings. Her earliest works were charming children's illustrations that she sold at Northwest art shows to pay for her education. Please take a few moments and treat yourself to the artwork of Jody. Prints, mugs, magnets available. Just click... http://www.bergsma.com