Horoscopes
Daily Horoscopes For Saturday March 25, 2023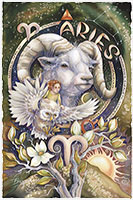 Aries March 21st - April 20th: Influenced by your ruler Mars moving into Cancer, you'll need to go within and reevaluate your current dreams and future goals. Perceptions change at a rapid pace, so you must stay on top of your game. A financial decision could have you in knots, so make a list of the pros and cons under the Taurus Moon to dissolve any doubt or fear you still carry. Your romantic side comes out this evening, so get ready to cuddle up with the one you love or go in search of your soul mate.

KEEP IN MIND: When in doubt, write it out. Getting things down on paper will give you a clearer view of any situation.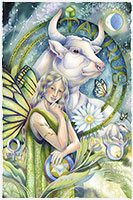 Taurus April 21st - May 20th: A loved one will try to get your attention through rebellious acts or high drama under today's Taurus Moon; if you give it to them, their attitude will change immediately. You need to let go of some worry that's stealing your energy; write it all down on paper as Mars moves into Cancer, where you'll discover some illusions that can be laid to rest once and for all. New Age music can add a mystical tone to your evening, so play some while you meditate to reclaim your inner peace.

KEEP IN MIND: The quickest way to figure out what someone wants is to give them your undivided attention; that way, they can quit playing games and tell you what they want!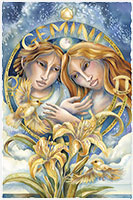 Gemini May 21st - June 21st: Imagination, inspiration, and vision will surround you today as Mars moves into Cancer and empowers you to move your dreams from fantasy into reality. To breeze through your household chores in half the time, play upbeat country or bluegrass music under the Taurus Moon. Thoughts of a past relationship could fill your head tonight. When you review the past during meditation, you'll realize that these events were vital in taking you to the place where you now stand.

KEEP IN MIND: You won't get much done anyway, so feel free to fantasize the day away!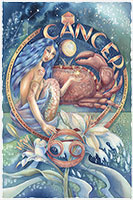 Cancer June 22nd - July 22nd: Restoring your balance is essential today, as your physical and mental levels have been strained to their limits. Spend some time in meditation and reflection to strengthen your connection to Spirit as Mars enters your sign for a two-month visit. The decisions you make in relationships will be binding under today's Taurus Moon, so consider the long-term effects and commitments involved before agreeing. Jazz or soul music awakens your passionate side, so play some and let the romantic sparks fly!

KEEP IN MIND: It's all about balance today, so keep an eye on how much you give, as well as how much you're taking, in your closest relationships.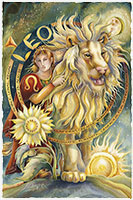 Leo July 23rd - August 22nd: Under today's Taurus Moon, take the time to acknowledge someone for the help and support they've given you recently. Put off mundane chores until tomorrow, when you'll have more energy to tackle them. Plans tend to fall apart midday, so to maintain your inner peace, simply refuse to make any! Instead, go with the flow and see where Spirit leads you as Mars moves into Cancer. Put on some New Age music tonight, as it can help you align with the psychic energy emanating from the heavens.

KEEP IN MIND: You won't feel like doing much today, so give yourself permission to just float along with the tides.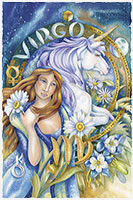 Virgo August 23rd - September 22nd: If you play a little classic rock and roll while you attend to household chores this morning, you can complete them in half the time! That frees you up to spend the rest of the day indulging in fun activities or personal pursuits as Mars moves into Cancer. A relationship from your past will come to mind under the Taurus Moon and could inspire some journaling or internet sleuthing to gain more insight or see what they've been up to. Get to bed early to catch up on the sleep you've lost this week.

KEEP IN MIND: Once your chores are done, you can goof off the rest of the day - Enjoy!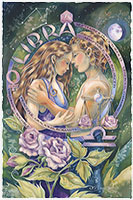 Libra September 23rd - October 23rd: Your optimism will return this morning as Mars moves into Cancer and illuminates how close you are to your dreams! Make sure others know your schedule or a misunderstanding could delay or cancel your plans altogether under the Taurus Moon. Loving conversations can restore your emotional balance and add depth to relationships, so reach out to others by phone or email. Instrumental music is the perfect backdrop for a wonderful evening, as you relax with your favorite person; you!

KEEP IN MIND: You'll finally see some progress for all your hard work today; go ahead, pat yourself on the back!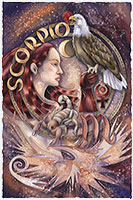 Scorpio October 24th - November 21st: The Taurus Moon might generate a little doubt or fear today, but luckily, Marsí entry into Cancer will help balance things out. You can clear emotional confusion by journaling to gain a more rounded view of what's really going on. Check your finances before you make an indulgent purchase today or you'll create a domino effect of bounced checks or late charges. Play some rock and roll classics to revive your spirits this evening; you may even be tempted to roll back the carpet and dance the night away!

KEEP IN MIND: "Look before you leap" is a good rule of thumb today - you don't want to have to deal with a "metaphysical" sprain!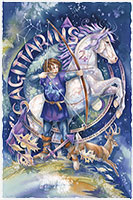 Sagittarius November 22nd - December 21st: Rest and relaxation will be a theme under this weekend's Taurus Moon, as you take time to restore balance and harmony to your inner world. With that in mind, insist on time for yourself to regroup on a spiritual level as Mars moves into Cancer. You should stay out of a conflict between two friends and let them work things out on their own; otherwise, they could both end up mad at you! Classical music will serve as the ideal backdrop during your meditation this evening.

KEEP IN MIND: You've been so busy tending to your life garden that you've forgotten about your spiritual one! Plant some "soul seeds" today.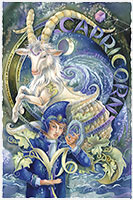 Capricorn December 22nd - January 19th: Your mood will brighten when you make contact with a long-lost friend or lover under the Taurus Moon. Be available to your loved ones as Mars moves into Cancer today, sharing your experience and encouragement with those who are struggling with problems you've already overcome. A gift of money could come your way, which in turn, will inspire you to purchase items that add comfort or beauty to your home. Download new music by your favorite artist tonight, a sure-fire way to refresh your spirit.

KEEP IN MIND: Unconditional love will be your mantra today; spread it around!


Aquarius January 20th - February 18th: Mars will move into Cancer and awaken your creative side today, adding a special flair to all you do. Abandon the idea of sticking to your usual Saturday routine and let the hours unfold as they will. Fun-filled activities are best shared, so engage loved ones in all your plans under the unifying Taurus Moon. You'll discover the perfect gift for a friend or relative on the internet, and even better, it's on sale! Put some jazz on the iPod tonight to reflect the transitional mood you'll be in this weekend.

KEEP IN MIND: Don't guilt yourself into keeping busy today - take some time off to regroup and refresh your outlook.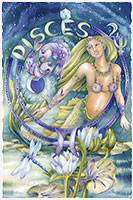 Pisces February 19th - March 20th: You may feel a little sluggish when Mars moves into Cancer this morning, so put on some hip-hop or rock-and-roll music to rev up your energy and get things moving again. You'll be invited to join others for a social gathering midday, which will motivate you to get chores out of the way in record time! Practice positive thinking and keep the focus on the blessings in your life. The words you speak under tonight's emotional Taurus Moon could last a lifetime, so choose them wisely.

KEEP IN MIND: Heartfelt sentiments are one thing, but don't get carried away and make promises you can't keep!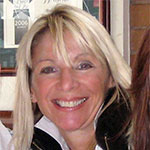 Meet The Artist: The stunning zodiac sign artwork depicted on this page is the copyrighted &copy work of Jody Bergsma. Jody has a diverse painting style that has developed over many years and literally thousands of paintings. Her earliest works were charming children's illustrations that she sold at Northwest art shows to pay for her education. Please take a few moments and treat yourself to the artwork of Jody. Prints, mugs, magnets available. Just click... http://www.bergsma.com