divinity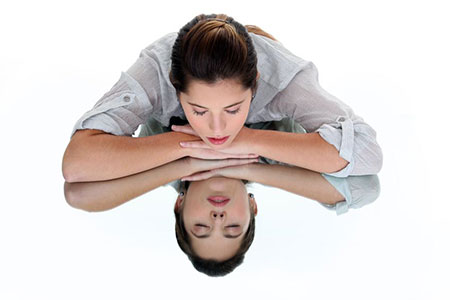 The art of 'being seen' begins within. It is not in the eyes, or heart, of an external beholder. It is the grace of being able to see oneself through the Divine Eyes of our Creator.
Every soul is unique. No two are the same. Each soul emanates from the Supreme Loving Source to offer its unique beauty and pleasure to God in an incomparable, individual way. When we look at ourselves through this lens, the true beauty, light, and power of the spiritual spark of our being shines upon our inner vision.
Relationships offer mirrors too. But what they show vary according to the quality of the reflecting surface. And what we see in them depends upon how well we know, see, and stand in the truth of our own higher self.
For example, if I look at myself in a broken mirror, do I see a crack in my face? I might…if I am not sure of who I am. However, if I know myself to be whole, I can readily recognize that the crack is in the mirror, and not in my face.
Similarly, there are relationships in life that reflect broken images back to us. That does not mean that we are broken, nor that the other person or people involved are broken either. We all have wounds and scars and other gaping holes yet to be healed, or not.
Whatever the case may be, it is the relationship itself that offers up the reflective element. It is the dynamic of exchange that shows itself as either clean, clear, balanced, cracked, smeared, skewed, and so on.
Knowing oneself in truth and wholeness is thus extremely valuable. If we do not possess such certainty of self, we may accept a broken or distorted impression projected by an ill-functioning relationship to be a reflection upon ourselves.