Conflict And Human Evolution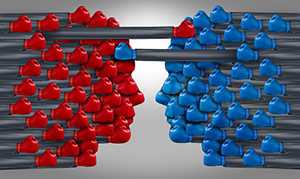 I was doing a reading today and I began channeling information that I believe is very relevant to all of us. I was talking to a woman about the conflict in her life, especially related to relationships. She has continually cycled through similar scenarios is her relationships, and did not understand why.
This was the message that was channeled for this situation:
"Conflict produces evolution. If conflict discontinued at one point in our evolutionary process on your planet, the highest form of life would be bacteria. There is a need for conflict to bring forth evolution.
Do not think of knocking out another person's brains because he differs in opinion from you. It would be as rational to knock yourself on the head because you differ from yourself ten years ago ~ Horace Mann
In the human experience conflict is integral to your next stage of evolution. Much of the conflict experienced is mental and emotional conflict inflicted by interpersonal relationships.  This is because the next stage of human evolution is related to consciousness.
The inner world of the human is expressed through experience.  Your tendency is to blame external circumstances, rather than looking within to gain a greater understanding that your experiences are actually manifestations of your inner reality.
This is why fear is such a destructive force. Fear can immobilize you, create contention in your relationships, and even lead to murder through genocide in extreme cases. But fear is a natural emotion – it can keep you from harm. However when two opposing realities exist within you, it is important to analyze which energy is the higher frequency.
You all have intuitive flow, but without being present in your situations you are unable to access the greatness that is available to you. Many people do not find fulfillment in life simply because they follow fear instinct rather than intuitive instinct. Courage is not the absence of fear, but the determination to follow that intuitive flow."

About The Author: Cosmic Coach

Cosmic Coach (James) has mastered many techniques in his psychic practice to connect with the unique heart center of each of his clients. He is a Reiki Master of many traditions, who is adept at crystal healing, card readings, and delivering detailed messages from Angels and Guides. A Christian Minister, a teacher and an Energy Guide, living in Michigan, James is always expanding the base of his knowledge to broaden his reach and serve as many clients as possible. To experience a unique reading personally designed for you, you can find Cosmic Coach at PsychicAccess.com.


This site uses Akismet to reduce spam. Learn how your comment data is processed.