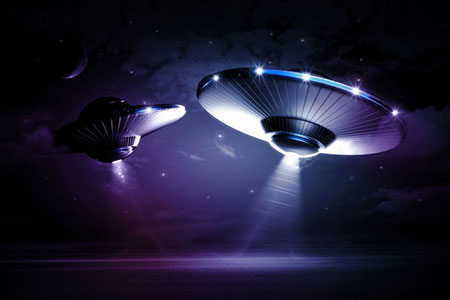 An official report recently issued by the special US task force investigating UAPs (Unidentified Aerial Phenomena) has generated renewed public interest in UFO phenomena. I actually had the unique privilege to witness such a UFO sighting many years ago.
It was the year 1977 and my son had just turned 9 years old. At the time we lived in Upstate New York, in Westchester (anything past Yonkers was considered 'upstate' back then). We lived near Indian Point, the nuclear reactor. It was located on the Hudson. Route 9 runs along side of it. Mario, my husband at the time, did some work at the nuclear plant before it opened. Mario has since passed away.
It happened on a Monday night. We were on our way to a delicious Chinese dinner in Ossining, driving on Route 9 at about 60 miles per hour,  a similar speed to the ten other cars around us. As we were cruising along, Mario suddenly said to me, "Gabby, look up there… in the sky, at two o'clock!"
I looked and saw what appeared to be two very strange, glittering 'stars.' But they were much too large to be actual stars, and I had also never seen stars shine and glitter quite like that.
Seconds later, at about nine o'clock in the sky, there appeared at least three more 'stars', also glittering brightly. The UFOs were circular with what appeared to be 'lighted windows.' There were no audible engine sounds, and on the top of the craft there were what looked like rotating red, blue and green lights. Then, all of a sudden, the two stars we spotted first exploded into two orange balls! That's the best way I can describe what I saw.
One of them stayed further down the Hudson, and the other one came very close to us, cruising over the Hudson. Fortunately, all the other cars around us slowed to the same pace that we were now driving at. Eventually everyone started pulling over to watch these marvels in the night sky. Everyone else was apparently seeing what we saw, so this was not our imagination. My son was understandably very upset at the time, but in time he also became excited and proud of what he had seen. My own feelings were that I was both shocked and in a state of awe.