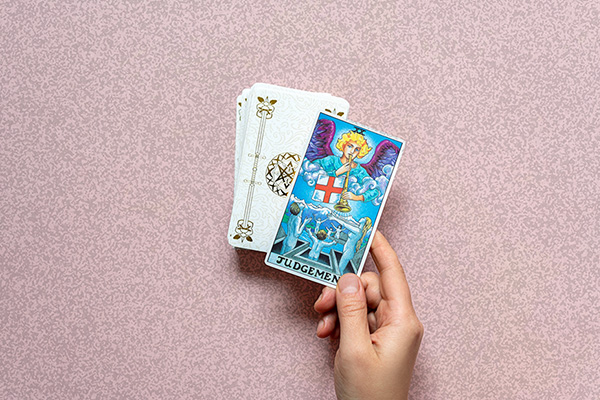 Judgment is card 20 in the Tarot's Major Arcana. Arcana means "hidden things, mysteries," from the Latin arcanum meaning "a secret, a mystery" and arcanus meaning "secret, hidden, private, concealed." Arcana are therefore "pieces of mysterious knowledge or information."
In a standard Tarot deck, there are 21 Major Arcana cards. They define The Fool's journey (the first card) through life and all of the life lessons we encounter along the way. As one of the final stages in The Fool's journey, the Judgment card represents having learned sufficient lessons to now awaken from the illusion and limited perceptions.
The most well-known tarot deck is the Rider–Waite. Pamela Coleman Smith, aka "Pixie," was a British artist who illustrated the deck. She deserves much credit for the brilliant way she captured advanced spiritual concepts in the deck's artwork.
The Rider–Waite Judgment card depicts three resurrected figures, a woman, man, and child, reaching up to an Archangel overhead blowing a trumpet as a wake-up call. The scene is based on Christian imagery representing the Resurrection and Last Judgment. The flag of St. George hangs from the trumpet, which references 1 Corinthians 15 in The Bible.
The Judgment card reminds us that no matter what our background may be, we can rise up and transcend any trauma or adversity in life, regardless how challenging the situation. We also have the power to see through the illusion of life and wake up to the truth.