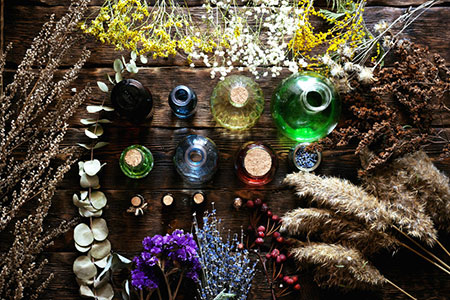 Aromatherapy and essential oils are often used in spiritual and metaphysical practices, but it can also enhance our health and well-being in many ways, including relaxation, relieving tension, calming the mind improving concentration, and increasing mental clarity.
Below are three of my favorite essential oils and the best ways to use them.
PEPPERMINT
I use peppermint oil regularly. It has a crisp, clean scent that is both energizing and soothing. It evaporates rapidly and has an intense aroma.  Peppermint is one of the essential oils commonly used for gastric issues and in muscle rubs. I used it for morning sickness and my mother put a few drops on a cotton ball pinned to her collar to help with nausea caused by chemotherapy.
It's expectorant and decongestant properties make it excellent with upper respiratory ailments, colds, chronic bronchitis, sinus headaches, and seasonal allergies. Diffuse it in an oil diffuser, put 10 drops in a bathtub (4 for children), or make an alcohol plaster.
If you choose to use a tea light diffuser, be sure to put water in with the oil, or the oil will burn, and smell unpleasant. When using an oil diffuser start with 4 or 5 drops, then adjust as desired.
You will need a dish towel, or another rag that will fit around your person's neck, rolled to fit, 2 or 3 inches wide. Pour 2 or 3 caps full of rubbing alcohol on a 2 to 3 inch square, put 3 or 4 drops of peppermint on the alcohol, place the square on the throat and pin to keep in place.  The alcohol will help the oil evaporate evenly through the night.