How To Deal With Drama Queens (And Kings)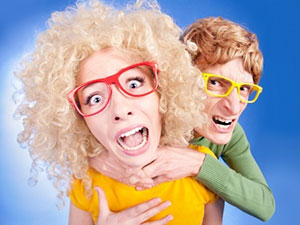 We live in a world rife with drama. Most, if not all of us, have someone we care about in our lives who may be melodramatic, co-dependent, addictive, overly demanding, or constantly in trouble or in victim mode. We may not always know how to deal with these negative feelings and behaviors, or we may even try to ignore them. The truth is, drama doesn't have to weigh us down, and it doesn't always have to be difficult!
The first rule to keep in mind is that love works better than anything else. Offer your loved one plenty of compassion, because, chances are, the drama queen in your life is wounded. Negative actions typically stem from hurt. Be available, yet don't become their doormat. This can be hard sometimes.
Difficulty is inevitable. Drama is a choice ~ Anita Renfroe
When you pray or meditate, ask your Higher Power to help your loved one to let the drama (and whatever causes it) go. It can be an amazingly effective method, since the Universe is receptive to our thoughts and intentions. For example, you may offer to have your loved one write down the thoughts and feelings that are bothering them on a piece of paper, then tear it up or burn it. It's a physical way to help release that negative energy.
Many times, a dramatic personality is also a narcissistic or self-centered one. It is their way of seeking attention. Suggest healthy ways for the two of you to enjoy one another's company without dwelling on the source of frustration: nature walks, friendly games, walking a dog. Any physical activity or recreation, especially when repeated, releases the right kinds of chemicals. Also, it will give the other person something else on which to focus their energy.
Depending on which spiritual or religious tradition you follow, you might also want to pray, meditate or chant for your loved one. If they are open to the idea, the gift of a healing crystal, candle or other spiritual object can also be a great help. Come up with a simple mantra or meditation to help get rid of whatever is causing "all that drama."
Every third person in the world is a drama queen…It feels good to cry victim if you're not one ~ John McWhorter
Of course, sometimes none of this will fully get rid of the complications some face in their lives. Some people, including our own family members, just seem to attract trouble and drama all the time. What do we do then, especially if we have to see them at holidays, or even every day? The answer comes back to love. In order that we ourselves live healthy, productive lives, we can be gentle, but firm. Tough love phrases, such as "I love you, but I wish we wouldn't talk about that anymore" can be helpful.
If the drama queen or king in your life is a romantic partner, you may wish to move on if the problem can't be solved. If you do want to salvage a relationship, counseling with a compassionate and caring third party may be an option as well.
The basic truth is, we can't let others' drama pull us down, too. We can still love them without loving the less savory parts of them and getting sucked into their upheavals. But remember that none of us are perfect, so try to stand in that person's shoes for a moment before you judge them too harshly. We all have drama in our lives, and we can use that experience to help others, without getting hurt ourselves.

About The Author: Mystic Shelley

Mystic Shelley is a Psychic Medium. She has been reading for over 15 years helping and guiding people. She uses my 8 spirit Guides during her readings. She reads in the area of love, relationships, career, money and all matters of love. She will give you only honest and direct answers. Get a reading with Mystic Shelley now at PsychicAccess.com