Published
October 22, 2021
|
By
Seraphim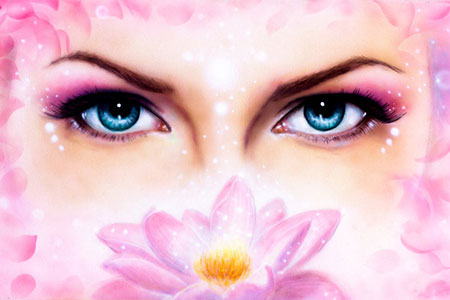 Eye gazing, also known as 'soul gazing,' is a powerful meditative practice that can be done on your own, or with a partner. Eye gazing is an ancient tantric practice of looking deeply into someone's eyes to foster a spiritual connection.
Eye gazing is a potent means of connecting with yourself and others to build genuine connection in your life. It is also an exciting way to build meaningful intimacy with a romantic partner. If you have trouble opening up to others, eye gazing can be an effective tool to help you get comfortable and confront any fears you may have around being seen. It can be done alone, with a friend, or with a romantic partner.
It is also a powerful tool for discovering how past lives may be helping or hindering you in your current incarnation, and for receiving messages directly from Spirit. It can be used as a method for communication with your guides and higher self.
Anyone can eye gaze, and I feel everyone should try it at least once! Whether you do it alone or with a partner, eye gazing can offer some profound insight and create potent shifts in our perspective that allow you to break limiting patterns in your life.
Eye gazing requires no special equipment or paraphernalia to set the mood, although it can be pleasant to light some incense or candles if desired. You can also use music but ensure that it is meditative, gentle, instrumental music without lyrics that will not distract you. The only thing you really need is a timer, as well as a partner, or mirror if you are gazing by yourself.
Typically, I encourage people to start gazing for just a few minutes at a time, but as you become more comfortable you can certainly increase the length of your gazes.
Posted in

Energy Work, Healing, Intuition, Life Design, Love & Relationships, Meditation, Self-Help, Spirituality
|
Tagged

breathing, communication, communion, connection, conscious living, energy healing, energy meditation, friend, growth, Healing, higher consciousness, intimacy, Intuition, Meditation, mirror, partner, personal growth, relationship, relaxation, romance, self-healing, sensing, sensual, sexuality, soul energy, soul growth, soul recognition, soulmate, spiritual awareness, spiritual growth, spiritual healing, spiritual insight, spiritual lifestyle, spiritual messages, spiritual practice, spiritual routine, spiritual traditions, spiritual union, Spirituality, tantra, telepathy, third eye, Yoga
|
Leave a comment