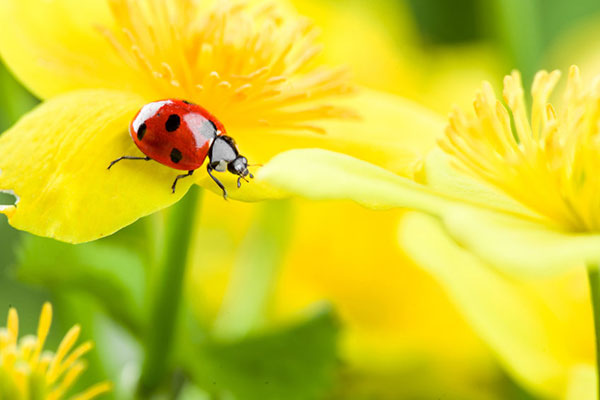 If you enjoy gardening or spend a lot of time outdoors, you are probably well-acquainted with ladybugs. These brave little members of the beetle insect family come in thousands of varieties and colors and are found all over the world.
In medieval Europe, these little beetles were associated with the Virgin Mary, because they helped protect farmers' crops from pests. The ladybug eats aphids and other garden pests, while keeping flowers and plants healthy.
In other cultures, including Scandinavia, Japan, and India, ladybugs are associated with divine feminine energy, as well as forgiving ourselves and others, spiritual grace, and empathy. The cycle of death and rebirth, along with the ability to heal, are also symbolic trademarks of the humble ladybug.
But they are not just useful as nature's pest controllers. They are also spiritual messengers.
It is said good fortune isn't far away when a ladybug lands on you, and for good reason: their hard outer shells and bright colors make them among the toughest survivors in the insect world. And they do not only bring tidings of good luck, they are also good omens of protection and healing.
Next time you encounter a ladybug, count the number of spots you see on its shell. If there are a total of seven spots, or another prime number, it is considered especially lucky. Likewise, note the color. Ladybugs are often depicted as red with black spots, but they also come in various shades of yellow (joy, optimism, the sun) and orange (health, prosperity). Just like our fingerprints, no two ladybugs are the same.
Unlike some other insects, the ladybug can live comparatively long, up to two to three years, and they also hibernate like mammals. For this reason, ladybugs often show up in our lives when it is time for us to engage in greater self-care, or recover our physical and spiritual strength when life becomes overwhelming. When they fly on a warm summer breeze, imagine them taking some of your cares away.
Posted in

Abundance, Divination, Dreams, Healing, Lifestyle, Shamanism, Spirituality
|
Tagged

angel messages, angel protection, angel signs, animal medicine, conscious living, culture, divine feminine, Dreams, empathy, energy protection, flowers and plants, forgiveness, fortune telling, grace, happiness, Healing, health, joy, luck, Mother Mary, nature, omen, power animal, prosperity, rebirth, self-care, signs, spirit animal, spirit messages, spirit signs, spiritual lifestyle, spiritual messages, spiritual practice, spiritual protection, spiritual traditions, Spirituality, symbolism, synchronicity, The Mother, traditions
|
Leave a comment