Published
November 16, 2023
|
By
Lucinda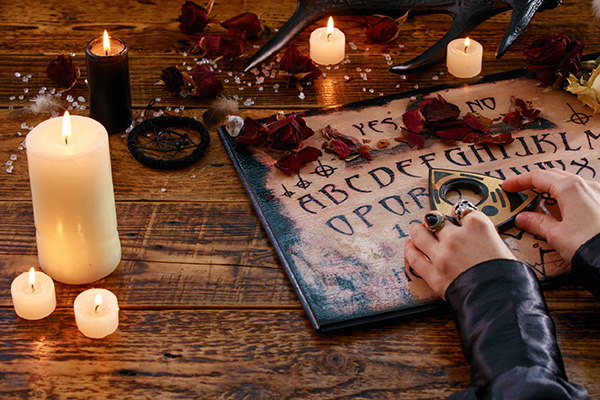 I have been asked over the years if it is safe to use the Ouija Board as a spiritual or divinatory tool. This is a simple question with a complex answer, as it depends very much on who will be using the Ouija, as well as the intended purpose or goal.
To simply say yes or no would be the same as saying someone should or should not use tarot cards, runes, crystal balls, or scrying mirrors, as they all involve communication with the spirit realm.
While I personally do not use Ouija as a mediumship or divination tool, it certainly should not be used as a toy, especially by people who are simply curious and unfamiliar with working with the spirit realm.
I do not know of anyone who has been physically harmed by contacting spirit via Ouija, but I have worked in the past with a client whose mental health and emotional well-being were severely affected by it.
I've also heard from a fellow psychic involved in paranormal investigations that she was called in to deal with disturbing paranormal activity in someone's home that was triggered by a botched amateur séance.
Contrary to popular belief, the Ouija board was originally created as a fun family board game that seemed to have nothing to do with spiritualism or the occult. The truth is that the concept actually has spiritual origins. There is evidence, for example, of a planchette-like device used for divination in ancient China around 1100 A.D., and it is a historical fact that the commercial Ouija Board "game" actually has its roots in spiritualism.
Posted in

Afterlife, Divination, Mediumship, Mysticism, Paranormal Phenomena
|
Tagged

beings, demons, divination, divination practice, divination readings, divination tools, entities, evil, fear, haunting, intelligent haunting, mediumship, mediumship reading, metaphysical practice, mirror, mysticism, myth, occult, ouija board, paranormal, paranormal activity, paranormal investigation, paranormal phenomena, physical mediumship, poltergeist, possession, professional psychics, psychic medium, runes, scrying, séance, spirit beings, spirit communication, spirit contact, spirit energy, spirit entities, spirit messages, spirit possession, spirit realm, spiritism, spiritual practice, spiritual work, spiritualism, supernatural, supernatural experiences, tarot cards
|
1 Comment