séance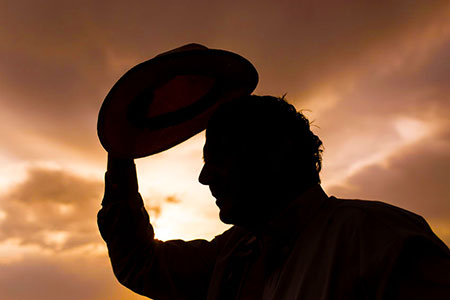 Have you ever experienced something that was so scary you just couldn't forget about it? No matter how many years have passed you still can't get it out of your mind? I have had several such terrifying experiences in my life. Try as I might, I just simply can't forget about those occurrences.
I can't forget for example, about the time I experienced severe sleep paralysis. It was frightening beyond measure. I also can't forget the feeling I got one time that I had to leave the place where I was living, and that I had to leave now. Later that week I discovered that the person I was sharing living space with, had been murdered. So, if your intuition tells to get out of an environment, listen to it!
Another experience that I will never forget had to do with a Ouija board. It was several decades ago. My friends and I were dabbling with one. We asked for a spirit entity to come through and we did make contact with someone… or something. It made the people I was with very scared, so they all left. But I continued to play with the board on my own, and when I asked what the spirit's name was, and it spelled out the name Ralph.
I asked Ralph what he did in life and he said that he had owned a farm, which was on the land where I was living at the time. He also revealed that many animals had died on that land, because there had been a terrible plague and a shortage of medicine that could save them. After he lost his cattle, he built a home which ended up burning down to the ground. So, there had been a lot of suffering occurring on that piece of land.
I later did some research and found out that there had in fact been a farm on that property long ago. I also did a ritual to help the spirits of the farmer and his animals find peace. I blessed the land and burned lots of sage.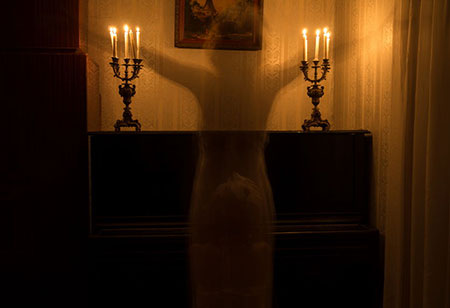 Do you suspect your home may be haunted? If so, don't panic! The majority of hauntings are generally harmless. However, it is nevertheless imperative that you be able to recognize when spirits are around you, and to know how to engage correctly with them at all times. If you suspect that you are dealing with something more ominous, then it may be advisable to find professional help from paranormal experts in your area. But in most cases there is usually nothing to fear. The following guidelines may useful to you when dealing with typical ghosts in your home
Spirit Spotting
Spirits are often experienced by humans as orbs, flashing lights, shadows, blurs or mists. Complete, full-bodied apparitions, as are often portrayed in the movies, tend to be more rare and less frequently encountered. Yet, this is what most people expect to see, which impairs their very awareness to recognize spiritual contact when it actually happens.
Interestingly, paranormal research suggests that ghosts tend to be more active during the night, rather than the daytime, possibly because there is less electronic disturbance being emitted from household appliances at this time. In fact, electricity is a crucial factor in tracking down ghosts, as a lot of professional paranormal investigators use Electromagnetic Field (EMF) meters to measure spirit activity.
When an electromagnetic current changes or moves, it creates an EMF, and as ghosts are understood to be a form of energy, this energy current interferes with the EMF fields that surround them whenever they move, thus allowing any detecting equipment to ascertain both the spirit's presence and whereabouts. How exciting is that?