Finding Your Inner Wisdom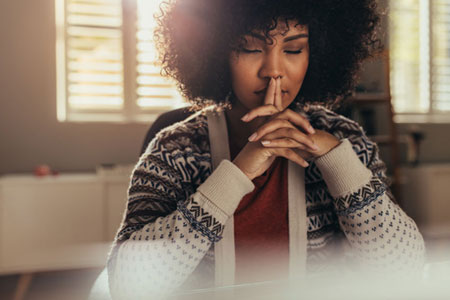 How does one find inner wisdom? How does one accurately access your intuitions? How does one receive guidance from spirit? These are typical questions that can emerge when we begin to seek deeper answers in the quest for spiritual growth and soul knowledge.
Inner wisdom is a natural gift, given to us by God, in order to have the connection between our soul and our physical body while we are in this world. Our intuition is operating in our lives every day, with or without our knowledge or perception of it.
Meditation and prayer can help us achieve a more conscious connection with the spiritual realm and our inner wisdom. When we take a moment to become quiet and listen to the inner voice of spirit, we can receive profound messages and guidance.
However, tapping into our inner wisdom is not always simple or easy. When life gets in the way, that is when you can get off track and people tend to be more scattered. We then tend to no longer listen to our inner guidance. Our spiritual guidance can also be thrown off course by distorted inner blockages or pain that we carry. It takes patience and courage to find healing and develop a greater capacity for clear intuition. Meditation and other forms of spiritual practice is the best way to achieve this.
One of my spiritual mentors used to say that inner wisdom and intuition speaks very quietly, with the voice of love and warmth. Inner guidance often comes with feelings of comfort and joy. We all contain the spark of God's inner light and love in our heart.
Look within in the silence. Your soul is waiting to tell you everything you ever need to know ~ Alison Stormwolf
In today's world this aspect of our being is typically covered up by social conditioning. That is why mediation brings us back to that authentic place inside, to re-open those areas and let the light back in, to bring forward our true spiritual nature.
Always receive spiritual guidance through your inner truth meter. Your heart knows what the truth is, what love is, and what light is. Ask yourself what about your perception feels good and true. Don't second-guess your spontaneous answers. When we start second-guessing these answers, is where we get into trouble. Trust your gut. When we venture away from that process we tend to get off track so believe in the messages you receive and start living your inner truth. You will start to see a difference in your life.
It never hurts to listen to opinions and advice from others, but always take it with a grain of salt, because our guides have always your best interest at heart and others do not always know your path and what is best for you. Your spirit guides were given to you by God and will always look out for you, guiding and protecting you throughout your life.

About The Author: Venus

Venus lives in Arizona and has helped clients with her arsenal of psychic gifts for over twenty years. She was blessed with Clairvoyance, Clairaudience, Clairsentience and Empathic gifts, and she is also a certified Life Coach and a Reiki practitioner. Departed loved ones will often enter a reading, either invited or they simply show up to pass along their messages. Messages also flow in from her direct communication to Spirit and Angels, providing the client with the answers they need to get them moving forward toward happiness, rewards, and success in their lives. In addition to being a psychic, life coach, and reiki practitioner, over the last ten years, she has also been a teacher and has led seminars to help others embrace their higher knowledge. If you'd like a compassionate psychic who can tune-in immediately and channel without tools, you'll want a reading with Venus at: PsychicAccess.com.


This site uses Akismet to reduce spam. Learn how your comment data is processed.