Walking With Angels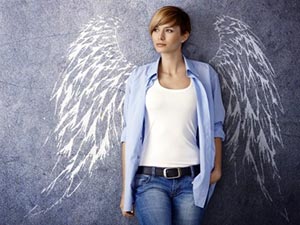 There are an infinite number of angels and guardian spirits in the spirit realms, and all of us have at least one such being whose purpose it is to guide, nurture, and protect us in our daily lives. They are there at our call. So how do we go about contacting them?
Our angels cannot help us unless we ask them. We have to make time to speak to them, and it is best to choose a regular time and method to do this. Some of us may feel more comfortable speaking aloud; others may prefer to journal, or silently meditate. Whatever we choose, our angels will hear us.
As we make this a practice in our lives, we get to know them better, including their name, their appearance, their aura. The better we know a person, the easier it is to speak to them; the same is true of our guardian angels. Don't be frustrated if you are just beginning this practice. Angels have very highly attuned energies, and it may take a while to adjust your wavelength to theirs.
It comes down to whether you believe in seven miraculous escapes a week or one guardian angel ~Robert Brault
Approach your angel communication with an open mind. As the saying goes, the ways of the angels are not ours. Since they will not literally "speak" to us, they show themselves in other ways. Have you ever experienced the sensation of a touch on the shoulder, only to find no one was there? It was probably your angel. The same is true of a shape we see in the clouds, or the comfort of a familiar song on the radio, or perhaps a book or magazine we find ourselves drawn to. These are all ways in which our angels communicate with us. We may also hear their words echoed in something a friend says to us. Listen and you will start to hear.
Another important thing to remember when interacting with angels: the more positive we are, the more positive they will also be – what we reap, we also sow! When we ask their help, it should never be a casual or frivolous request, nor should it be seen as a kind of "genie" wish-fulfillment. Ask your angel for what is in your best interest; your angel will know. Show them gratitude and respect. A simple thank you at the end of a prayer or meditation reinforces this.
Of course, the relationship between us and our angels is also a two-way street. We should endeavor to be as much like them as we can. Getting the right amounts of sleep, eating healthy foods and drinking plenty of water make us feel better and helps to decrease the negative energies surrounding us. Because angels are pure beings, they are drawn most to those whose bodies and minds are free of toxins.
Most of all, don't worry about "getting it right" or stumbling over words. Since these guardian angels are as old as time itself, they aren't worried about such superficial things. We need only approach them with humility and the desire to receive help, and they will respond. Have patience, too. Answers may not appear instantly. It is all in good time; the angels' time. They are with us always. We don't even have to pick up the phone or send a text. Just ask and they'll hear you!

About The Author: Mystic Shelley

Mystic Shelley is a five-star psychic, Reiki healer, clairvoyant and empathic reader. She offers her clients honest answers about past, present and future events with the help of her trusted guides. She reads in the area of love, relationships, career, money and all matters of life. Mystic Shelley was born with talents that would later mark her as a gifted psychic, but she chose not to embrace them early on. In her 30's, a not-so-chance meeting with a celebrated psychic set her on a course that awakened her gifts. Born with the gifts of clairvoyance and empathy, her psychic mentor helped her to expand those abilities, taking her talents to the next level. With experience came proficiency and today she has a growing list of devoted clients who sing her praises. In addition, she's also actively assisted other psychics to open up to their abilities. If you are looking for direct and honest answers get a reading with Mystic Shelley now at PsychicAccess.com


This site uses Akismet to reduce spam. Learn how your comment data is processed.