Published
April 9, 2021
|
By
Shani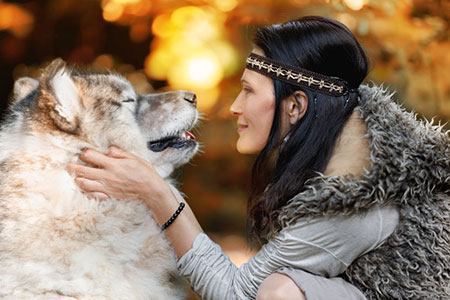 So many beloved pets cross over the 'rainbow bridge' leaving their owners with unbearable grief. I've found myself consoling several clients over the years, as well as focusing on connecting them with their furry 'children' on the other side.Doing these pet psychic readings often remind me of my own pain when my two Rottweilers, sisters Sophie and Jasmin, passed within months of each other.
Unless one has loved and lost a pet yourself, it is hard to understand the awful sense of loss one experiences. It also takes a considerable amount of time to come to terms with the fact that they are no longer in the physical. The grief is at times unbearable, despite the inner knowing that they have gone 'home' to spirit, on the other side of the veil.
In hindsight, several days before their death, both Sophie and Jasmin were constantly staring at me, as if they were looking right through me. I recall saying to each of them, "You're not leaving me yet, surely?" They were eight and a half and nine years old respectively, and both in relatively good health.
But, 'the look' was the same my boxer dog, Major, had given me 40 years ago. Only hours after he gave me that intense look, Major's already deceased mother, Trudy, appeared outside the kitchen window and communicated to me, "I've come to take him." The memory of that communication from Trudy – a particularly sensitive dog – is as vivid as if it happened yesterday.
Animals communicate by sending images, thoughts and feelings using telepathy. We can all master telepathic communication and often do it without even realizing. A course in animal communication made me realize that I'd been using this psychic technique all along.
I started helping people to communicate with their lost pets many years ago. It began when a lady was referred to me by a friend, who had been to me for a psychic reading. She asked if I could help locate her Siamese cat. I had never done this kind of work before, but being an animal lover I was willing to try. I managed to find the cat for her, but she only phoned to confirm this a year later!
Posted in

Afterlife, Intuition, Mediumship, Paranormal Phenomena, Pet Psychics, Psychic Phenomena
|
Tagged

Afterlife, animal, animal communication, animals, bereaved, cats, communication, crossing over, death, dog whisperer, dogs, grief, health, Intuition, intuitive, medium, mediumship, mediumship reading, pet psychic, pets, psychic attunement, psychic reading, reading, spirit, spiritual messages, telepathy, The Other Side
|
Leave a comment