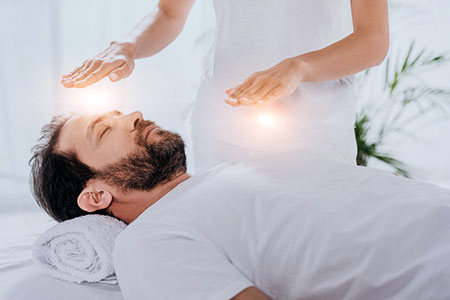 As a medical Reiki master and teacher, I have come to understand that there is often a spiritual aspect to almost every illness, pain or symptom that comes up in the physical body. When we are not in alignment with our spiritual self, it can create imbalances in many aspects of our health and wellness.
Note that I always recommend seeking and following professional medical advice. Despite the possible underlying metaphysical and spiritual aspects of any illness or disease, you must never assume that the intervention of a registered medical practitioner is not needed. Always seek medical advice if you are not feeling well, and do not stop using whatever medication and treatments have been prescribed for you without consulting your doctor. It could save your life.
What I can however recommend is to supplement your conventional medical treatment with energy work and other spiritual healing practices. The Eastern practice of Reiki is something you can use effectively to compliment your western medicine treatment.
Reiki is an energy healing modality that brings our chi into alignment. Chi is the energy of life itself. It is an electromagnetic energy which flows through everything in creation. Reiki brings the chi of the body, mind, and spirit back into alignment and can reveal which areas need to be worked on, or released, or simply acknowledged.
Here are a few examples of common spiritual meanings behind some of our ailments. Headaches are often associated with self-criticism and fear. They are also a source of feeling invalidated in some way and often aimed at the self. The solution is to start affirming how amazing you are, how divinely perfect you are, how much you love yourself. The best affirmation you can say is:
I love myself unconditionally. I am perfectly perfect as I am.