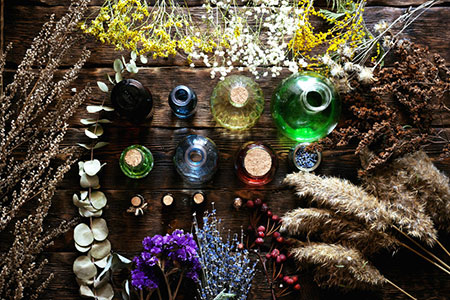 Aromatherapy and essential oils are often used in spiritual and metaphysical practices, but it can also enhance our health and well-being in many ways, including relaxation, relieving tension, calming the mind improving concentration, and increasing mental clarity.
According to Dr. Brent Bauer of the Mayo Clinic, some studies have shown that aromatherapy might also have health benefits, including relief from anxiety and depression, improved quality of life, particularly for people with chronic health conditions, as well as improved sleep.
But I believe it is important to use only good quality oils. There are several ways the oils are extracted from the plant. Distillation and expression create the purest form of oil, which is the kind of the essential oils I prefer to use for health purposes. Other ways are infusion and extraction which create perfume oils, the ones you can buy in any store that also sells perfumed candles and related products. These can used as room deodorizers, but not for treatments.
Furthermore, not all oils are created equally. Most are easy to use, but some can be too strong and must first be diluted with other ingredients before it can be used. Some oils are simply too toxic and should never be applied directly to the skin. Before using any oil, please do some research online or talk with someone knowledgeable who can advise you.
Diffusion Methods
Light bulb rings. I recommend the ceramic ones, the metals in the brass rings aren't good for the lungs, no matter how safe they seem to be, plus they're harder to clean. The biggest advantage in using a ring is that the oils fill the room quickly. The biggest disadvantage is that it needs to be placed on a traditional rounded top bulb, but in my house I have energy efficient bulbs, which have a twisted shape.