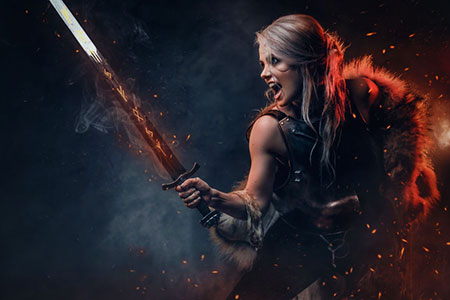 In my many years on God's earth, I can earnestly say I feel I have 'slain more dragons' than St. George, 'cast out more demons' than the priest in The Exorcist, and conquered much bigger giants than young Jack when he climbed up that beanstalk. I am not hoping to gain sympathy by saying this, but merely to state that if I can put down my personal demons, with Spirit's help of course, then I could help you do the same.
The year 2020 has been one of far too many challenges for most of us. Some of us have had to deal with unusual difficulties and challenges we may have never encountered otherwise. For me, it began with a cancer scare, then continued with the outbreak of the Covid-19 pandemic, and ended with me supporting my husband through a bout of deep depression. Indeed, 2020 is a year I will never forget, as much as I may want to!
However, my guides have been reminding me that I have also gained some blessings from this year. For one, I would say that my inner resolve has grown much stronger, and my desire to be of service and help others have reached an all-time high.
I am not suggesting that everyone must have reasons to appreciate the challenges this year brought, but as 2020 draws to a close, I do hope that the following practical strategies may help you to 'slay some demons' and end this year on a more positive note, in order to start next year with more optimism, hope and joy.
Find An Inspiring Role-Model
The one person who has always given me a sense of strength is the late Martin Luther King.  He famously said, "The ultimate measure of a man is not where he stands in moments of comfort and convenience, but where he stands at times of challenge and controversy."
Whenever I am in a difficult, stressful situation, I always ask myself what would Martin Luther King do in my situation? In fact, I even imagine him by my side, giving me all the strength and motivation that I need at any given time. You can do this too by finding yourself a hero or heroine that inspires you.