signs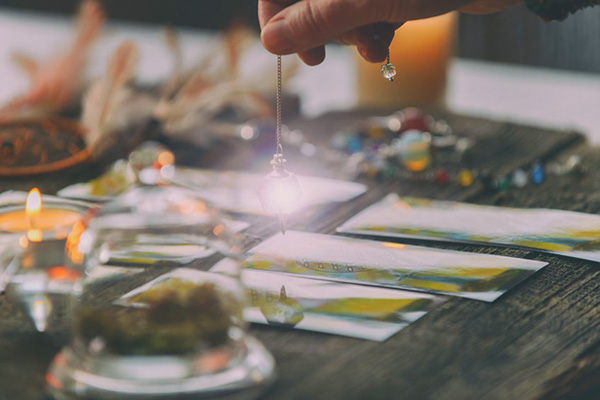 Every psychic is different on how they do readings using divination tools. I like to challenge myself and push the envelope. I have developed my own divination method by combining the use of a regular deck of playing cards and a pendulum to do psychic readings.
A pendulum is a weighted object at the end of a string or chain and it can be used for both dowsing and divination. The 'bob' of the pendulum is usually a crystal, piece of metal or some other gemstone. Pendulums have different sizes and shapes and they come in many colors. I use a quartz crystal pendulum with a 12 inch chain. Divination with a pendulum can be done in many different ways, including using charts. You can even use a simple chart you draw on a normal sheet of paper.
The idea to use a pendulum and deck of cards at the same time came to me many years back, when I felt the need for a new psychic challenge. When I do psychic readings with playing cards, I find it helps to open up my psychic abilities even more.
You may wonder how anyone can use an ordinary deck of playing cards, instead of the Tarot or oracle cards, to do readings. Well, I can feel the energy or 'vibes' better by using ordinary playing cards when I do a reading.
When I was younger I used to give readings to friends, and I discovered the cards give off a very strong energy for me. I am guided by spirit when I read, and when my psychic abilities kick in I feel a 'heat' or I feel my hand drawn to certain cards. I get an even more accurate result when I use a pendulum, instead of my hands.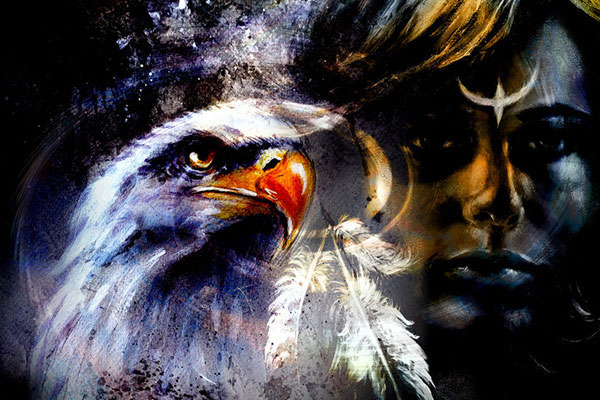 It is my belief that we all have animal spirit guides that guide and support us along our life journey.
Each spirit animal represents a different aspect of life. Some show up when we need their particular energy or receive their symbolic message, while others show up consistently throughout our lifetime. These animals, birds, mammals, reptiles, and even fish, are like our personal totems.
I have three main spirit totems: the eagle, the red tail hawk, and the owl. Each has shown up consistently in my life, especially when there is a time of adversity, grief, or crisis occurring.
I was made of aware of these three totems early in my life, when I consulted with an indigenous elder. He gave me my spiritual name: Soaring Free. I instantly loved my name. It represents the proud eagle that soars on high, the red tail hawk that soars in broad circles high in the air, and the owl that is wise and roams free.
The Eagle
After my parents passed away, I was cleaning their house. Not only was I grieving at the time, I was also very distraught, having to decide whether to sell their home or not. I was not at all sure if it would be the right thing to do.
Then, I asked my angels to give me a sign. Moments later, as I looked down towards the lake, there were two beautiful bald eagles sitting on the edge of a tree branch.