My Childhood Psychic Awakening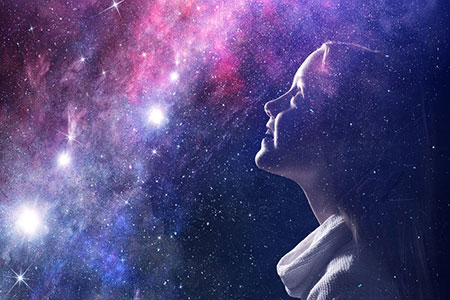 Being gifted from an early age, I had lots of questions, and wanted specific, detailed answers about psychic phenomena, spirituality and the paranormal. This later became my norm to everything, and the world around me. The why's and how's continue to fascinate me in every aspect of my life.
My spirit guides have been very helpful over the years, as I found that humans can seldom answer my questions clearly, nor adequately. Over the years, my guides provided me with the stepping stones for my personal psychic development.
My guides assured me early on that they would never give me more than I could handle. They also made it clear that the truth of anything can always be confirmed by simply asking. I believed them, and each time I had an unusual sense or feeling, I asked for confirmation. I still do.
My first paranormal encounters and psychic experiences were with the animals. Their energy and communication is easier to understand, just like my guides, and they always communicate with unconditional love. This also led to a special bond with nature, and especially the trees. Soon after came the wind, and the water, their sounds so soothing and calm. As a child, I always experienced a deep, tranquil feeling of well-being, serenity and inner peace whenever I was outside in nature. I still do.
My next extra-sensory experiences were of premonitions and forebodings concerning the safety and well-being of others. At such a young age these presentiments were tricky to relay to adults. I would sense that someone was in danger, or shouldn't go on a trip, or should not engage with a certain person who had dark energy around them. These apprehensions seemed to constantly haunt me. How do you share such warnings with grownups who will not listen, or take your seriously?
I've always known I was gifted, which is not the easiest thing in the world for a person to know, because you're not responsible for your gift, only for what you do with it ~ Hazel Scott
Initially, as a sheltered, privileged child, I thought the world was all fun, joy and happiness, until one day I began to sense sadness, disease and suffering in others. You want to hug them and make them feel better, but you feel helpless in the weird world of adults. I soon realized that the people around me were not always happy, despite the fact that they were often smiling.
I also discovered that the sadness of others was affecting my energy and well-being. It was an overwhelming feeling of hopelessness and despair, and so difficult to understand at that tender age. At times it would bring me to tears.
I wanted to help them, and offer them healing and happiness. I would ask my guides for happy things in their life, so I could give them hope. It worked. I could bring smiles to their faces, and diminish some of their sadness. It was wonderful to see them light up, with a glow of bright colors around them.
In time, it became my mission to walk into every unhappy room of people I could find, and spread feelings of love and peace, and then watch how people ingested the warmth and joy. I still do it to this day.
What makes a child gifted and talented may not always be good grades in school, but at a different way of looking at the world and learning ~ Chuck Grassley
My guides called my desire to uplift and heal others a gift from God, and said this special spiritual energy that I was sharing with others was coming through me, and not from me. This was my first major spiritual lesson – to understand that our spiritual gifts just flow through us, and we do not own, or control them. If you try to control it, it becomes earthbound, misaligned and misplaced, and can no longer be confirmed.
So, for our metaphysical gifts to work constructively in this world, we must never try to be psychic. One must simply let it happen. As you go through life, always respect your psychic gifts. They are not parlor tricks for frivolous entertainment. They are true blessings from the Divine. And over time they can grow and expand, or be taken away when abused.

About The Author: Krystal

Krystal's psychic talents with people and animals are as remarkable as her non-psychic adventures. Divinely gifted with multiple avenues for reading energy, she's hosted TV and radio psychic shows that quickly skyrocketed to #1. She has read for musical celebrities, provided lectures and is an Ordained Minister who has performed marriages and eulogies. She was also the first female race car driver, holding 4 titles, her accomplishments immortalized in a book! For over 4 decades, she has connected with her Guides, receiving visions and info from just the sound of a client's voice, and she's taught many devoted pupils to tap into and harness their own special gifts. From her dream home in Ohio on 200 acres that house a menagerie of animals, including mini-horses, Krystal can be found whittling walking sticks on her porch that tell a person's life story, and her readings will hone in on your unique life story, providing clarity on any concern. She brings balance, love, and healing, not to mention love and light to your life path. She has 12 natural spiritual gifts that require no tools to get the message across. Her guides offer detailed insights on all you need to know at the moment you enter her session. If you would like a reading with a psychic prodigy who's been reading since the age of 5, you can find Krystal at PsychicAccess.com.


This site uses Akismet to reduce spam. Learn how your comment data is processed.