spiritual routine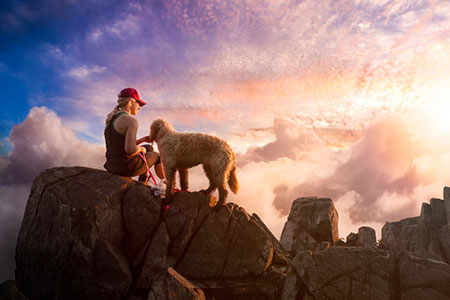 I have always felt that I have two life callings: my work and taking care of rescue animals. And I aim to do both to the best of my ability.
A neighbor stopped me today as I was walking my dogs. This often happens when I am out with them. He asked me why I chose to walk the dogs, while I have a large plot of land for them to freely roam.
Well, they do run around on the property, at least the two younger ones do, but the pleasure of walking them is immeasurable. It is a true joy to see them relishing in the unfamiliar smells and the intriguing creatures they encounter in the countryside. They even made friends with a nearby farm's goats and another neighbor's cat.
I also enjoy the lovely countryside around me, which I will be less likely to experience on my own had it not been for the reminding me every day that it is time to go 'walkies.' Apart from the obvious exercise being advantageous for my health and well-being, it is also a sort of a meditative process and spiritual practice, because I am required to be very present in the moment.
One of my dogs is a warren hound, known in Spanish as a podenco. They are a Mediterranean rabbit-hunting dog breed.  So, she's a hunting dog and if she suddenly makes a dash to chase something, she could easily catch me off guard and pull me over. I can therefore no afford to be distracted or preoccupied. Instead, I must mindful and aware, which is very beneficial for my inner peace and spiritual alignment.
My dogs and cats are all rescues, some from unthinkably harsh backgrounds. Looking after them has involved a lot of care and veterinary visits, including many specialist observations and surgeries. When you take rescues into your home, they tend to come with much fear and many insecurities, which takes patience and unconditional love.
Two large rescue dogs, that have since departed this life to cross over the rainbow-bridge, wouldn't allow me to touch them and refused to come inside the house. I provided them adequate shelter outside, but it still bothered me, because the winters can be harsh here in Spain.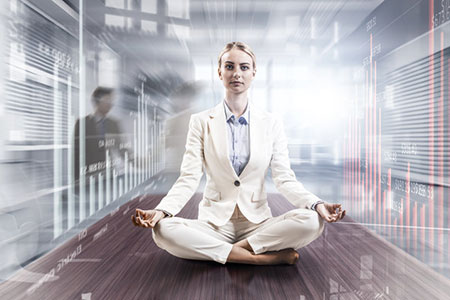 If you are seeking change in your life, you must create the change. You alone create your reality. Your future happiness, joy and fulfillment does not depend on others. It truly depends on you, and you only. But it is not necessary for you to plan or control exactly how everything will change or work out. Leave the ultimate manifestation and transformation to Spirit and the Divine. But you must at least believe your life can change, and will change. And the best way to ensure such transformational changes in your life is to spiritual practice a part of your daily lifestyle.
My daily routine, which rarely changes, includes the following spiritual practices. Upon awakening I immediately do my affirmation prayer for the day.
Thank you, Universe for this amazing, positive, successful, and abundant day ahead of me. I know it will be better than yesterday and I am ready!
Thank you, Archangel Michael for putting your cloak of protection around me, from above my head to below my feet. May it shield me from all negative energy and bounce it back in to the ethers, instead of attaching itself to me during my day.
I also ask this for my partner, children and grandchildren. Amen.

After my prayer, I am grounded and centered to confidently go about my daily business. Even if I have nothing major going on, I will still get dressed as if I have something important to do that day. This further 'lifts my energy,' because as I look in the mirror and I feel prepared anything. I know I am going to be successful, happy and in a good place for the day.
One I am turned-out for the day, and before I start working, I sit at my desk and study at least one chapter in a spiritual book, as I need this knowledge every day in my work with my clients all over the world. Some of my favorite inspirational sources to date are Psycho-Cybernetics by Maxwell Maltz; You2 by Price Pritchett; The Power of Awareness by Neville Goddard; You Can Heal Your Life by Louise Hay; and The Four Agreements by Don Miguel Ruiz. But I have many others in my personal library.