Published
July 22, 2021
|
By
Lucinda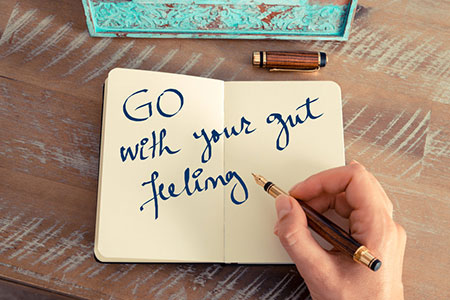 I always smile when I think back to the time I discovered the true power of intuition and the inner guidance of Spirit.
I recall that Thursday afternoon as if it were yesterday. There I was, sitting on the couch in the living room. I was totally fed up and impatiently debating whether I should go and get the evening newspaper, so that I could scour the vacancies page for any job offerings.
It was September 1978 and I was only 18 years old. Unemployment was high in the United Kingdom at the time. Sadly, I was one of those jobless young people, desperate to find work.
"Relax," said my mind, "it's too early to go for the evening paper now. You can get a newspaper anytime until 6pm." "
"You must go now," said my heart and gut, "there may just be a job offer in the paper, and it may be exactly the kind of a job you are looking for!"
I continued with this inner battle for a while, until my heart and gut finally won, and off I went. As I stepped out onto the street, I noticed that the bus was approaching at great speed. Then saw, right in front of me a baker's van parked outside the nearby grocers and then, to my horror, a little baby boy in a buggy outside the shop. The baby's buggy was slowly being carried by a strong wind, taking it directly towards that oncoming bus!
My heart pounded, my mouth went dry, everyone around me gasped, and time literally felt like it was standing still. All I could think of was to run. And run I did, like an Olympic athlete. Then I pushed the buggy back onto the pavement and out of the way of the oncoming bus.
Was all this a coincidence? I think not, as I was being urged by my intuition to be in a particular place, at a specific time, to stop something potentially horrible happening. Some people whom I have told this story to have just put it down to luck. All I can say is that I am glad I listened to my heart and gut, and not my head. I do not want to imagine what might have happened, had I gone a minute later for that evening paper.
Posted in

Intuition, Paranormal Phenomena, Psychic, Psychic Phenomena, Self-Help, Spirit Guides
|
Tagged

angel guidance, awakening, awareness, become psychic, clairsentience, consciousness, divine guidance, guidance, gut feelings, heart chakra, inner guidance, inner voice, inner wisdom, instincts, Intuition, intuitive, memories, precognition, premonition, prescience, presentiment, psychic abilities, psychic ability, psychic attunement, psychic awareness, psychic development, psychic experiences, psychic guidance, psychic knowing, psychic sensing, psychic wisdom, sentience, spirit communication, spirit guardians, spirit guidance, Spirit Guides, spirit messages, spiritual awareness, spiritual guidance, spiritual messages, spiritual resources
|
Leave a comment