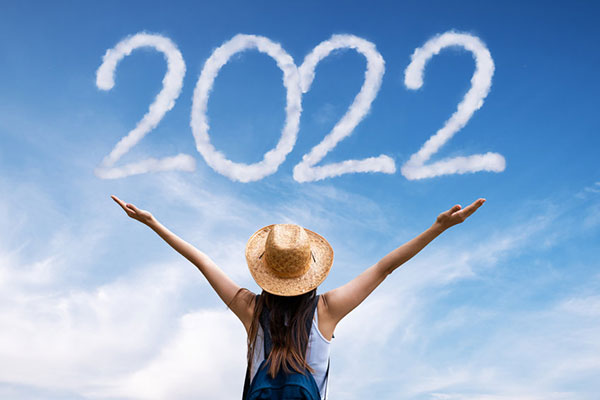 Looking ahead at the metaphysical energy influences we can expect in 2022 one sees a definite positive shift compared to 2021. Although aspects of the pandemic will linger on, spirit says this will be a much brighter year. This hope is further confirmed by both Numerology and Astrology.
The year 2021 was a 5 Universal Year in Numerology, which represents energies of instability, volatility, change,  and the unexpected. For this reason, it was a dramatic, somewhat erratic year that seemed to fly by!
The new year 2022 is a 6 Universal Year in Numerology, which represents a very different energy.  The energy of a 6 Year is centering, calming and grounding after the unstable, volatile energy of the preceding 5 Year.
Pertinent features of a 6 Year pertains is an increased focus on stability, security, domestic matters, and the sanctuary of home. A 6 Year is also about accepting personal responsibility and a renewed focus on family, social life and relationships.
In 2021 many of us reexamined our jobs, careers, businesses and personal relationships.  This was one of the blessings that came from of all the chaos. In 2022, I see energy available to us for making lifestyle choices that will be more fulfilling and in alignment with what we are truly passionate about. But it will be up to us to pursue the opportunities presented to us by the changes presented by the past year.
The number 6 is also The Lovers Card in Tarot which not only speaks of love and romance, but also choices, especially in what calls to our hearts.
Of course, the calculation of the 6 Year is the result of adding up the numbers 2+0+2+2. The repeating numbers 2 represent the powerful energies of intuition, love, marriage, partnership, patience, choices, commitments and contracts of all types, especially when you pair it with the 6 Universal Year.