Walking In Faithful Companionship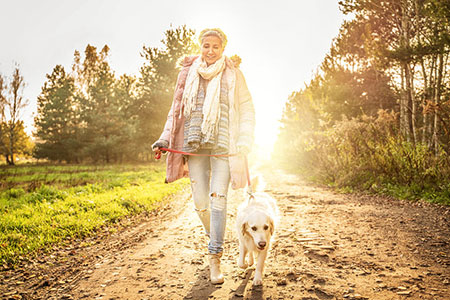 I live on a winding country road. Every morning and afternoon I drive along it, bringing my son to and from the farm sanctuary, where he dedicates his days and energies to the care of rescued animals.
Frequently, we pass neighbors enjoying a peaceful walk – sometimes with their partners, sometimes with their pets. There is one pair that has particularly captured our attention and admiration. The sight of them this morning especially started the day with a vision of sweetness!
As we came around a curve opening to a long, straight stretch in front of us, the gentle lady and her golden-colored dog were semi-visible in the distance. Backlit by the brilliant sun and morning mist, they would have been difficult to see had it not been for the bright orange vest the precious pooch was wearing.
What was most stunning however, was the way the dog turned towards the owner, sat down, and looked up at her with perfect poise and patience, as we drove around them. Not only was the scene adorable, but it embodied much spiritual wisdom for me.
The first thought for me was how noticeable the love and trust is between them. The woman did not even appear to speak a command to signal her canine companion to 'sit.' She just stopped and stood still with her feet together, looking straight ahead.
While it was clear they had developed their rapport and understanding of communication through prior training, it was nonetheless the woman's energy that stood out the most for me. She was calm, yet clear; gentle, yet firm; and guiding, yet respectful. The impact of her energetic qualities was evident in the demeanor of her dog.
The dog's energy also bore more than mere obedience. It emanated ease, faith, trust, respect, security, love, loyalty, and more. The pooch knows it is protected, respected, and loved, and reciprocated accordingly.
When we seek for connection, we restore the world to wholeness. Our seemingly separate lives become meaningful as we discover how truly necessary we are to each other ~ Margaret Wheatley
Seeing the pair reminded me of walking by faith in relationship with God, and all divine manifestations of spiritual source. The highest being, creator, and powers of all existence, also love, protect, and respect us with gentle strength and clear guidance at every step.
Feeling into the energy of this spiritual connection and keeping our eyes upon it, provides everything we need to also live a life that is secure, peaceful, and poised. Following the divine lead enables access to whatever we need to know to find the best direction forward, as well as when to remain patient.
What I witnessed between the lady and dog also represented intuitive truths of our human relationships. Our energies impact one another. They speak louder than words and actions. Just as the quality of the sun is revealed by the heat and light it emanates, our own essence is similarly perceived by the nature of the energy we shine.
We can love, trust, respect, protect, communicate, and reciprocate with another through the vibrations we carry in our hearts. Careful observation will reveal how those around us respond to our energy, and how we can develop an unspoken synchronized harmony with them.

About The Author: Lotus Grace

Grace is the epitome of her name, having endured a troubling childhood that paved the way for an adult, gentle, energetic grace that she now delivers to others through the gifts of movement, dance, and through her many intuitive gifts that she shares with her clients. For 30 years, this Hudson Valley, NY State resident has cultivated a unique way of helping others, drawing upon God as her best friend, advisor, and the all-encompassing force that is the bedrock of her faith. Her journey has led her to heal and grow through the mud of life and compassionately support others to do the same. She's immersed in the world's diverse faiths with a core that is deeply rooted in more than three decades of immersion in the spiritual practices and wisdom of devotional lineages. Her inner relationship with God/Spirit has deepened the intuitive sights, sounds, scents, and senses that unfold profoundly when she dances. Since 2004, Grace has run a spiritual healing arts and dance sanctuary, where she intuitively nurtures children, teens, and adults. In her client readings, she taps into her Empathic, Clairvoyant, Clairaudient, Intuitive healing to help clients access the divine guidance they need. If you're searching for a little added Grace, spiritual energy, and the answers you need, you can find Grace at PsychicAccess.com.


This site uses Akismet to reduce spam. Learn how your comment data is processed.