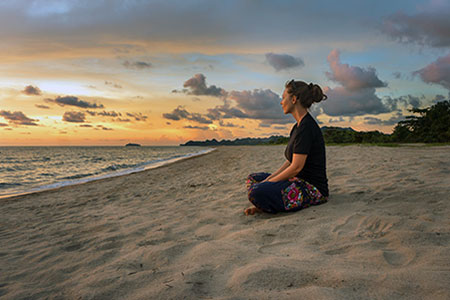 No doubt you've heard of the many physical, mental and spiritual benefits of meditation. And like many people, you are keen to give it a go, but still don't know where to start? Well, it doesn't have to be complicated or intimidating. According to Shunryu Suzuki, the Sōtō Zen master who helped popularize Zen Buddhism in the United States, approaching meditation with a beginner's mind is actually ideal.
The most common misconception it that meditation is a state of "thinking of nothing" or "clearing your mind." It is simply impossible to not think at all. One would basically have to be totally unconscious to achieve that. Instead, meditation is a spiritual practice in which we learn to be more mindful – to center, breathe, and achieve greater calm, inner peace and clarity.
Meditation is about embracing whatever is happening in the present moment, but without getting caught up in any of it. Meditation is about going with the flow, instead of resisting or suppressing your thoughts and feelings.
Meditation in its various forms has been practiced by cultures all over the world for millennia. The oldest documented evidence of the practice of meditation has been found in ancient Indian wall art that dates back to approximately 5,000 to 3,500 BC.
Meditation is an awareness practice, or an enhanced state of consciousness. It does not have to be associated with a specific religion or spiritual tradition. Anyone can meditate, no matter what their belief system. It also does not have to involve sitting or lying passively. It can be anything from coloring mandalas, to taking a walk in nature.