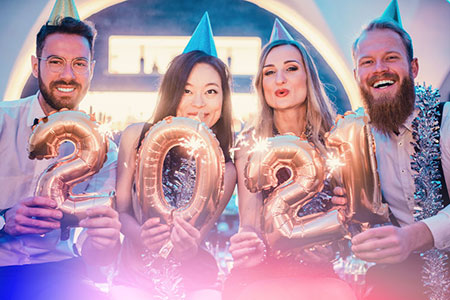 Next year, the world's energy imprint will be a 5, according to Numerology. During a 5 year, one can typically expect lots of activity, and after all the turmoil of 2020, we will now have even more catching up to do than usual. The energy of the 5 is fast moving and encourages us to meet life's challenges with renewed vigor.
Some aspects of life will gradually begin to return to normal in the new year, but bear in mind that some things have changed and shifted more permanently, pulling us forward to embrace new innovations and alternatives for 2021. It calls us to find new ways to do old things.
If you find it challenging to keep up, ask for help. There is always someone helpful you can reach out to, who can show you the nuances and tips.  It reminds me of my first encounter with video back in the day. My son had to show me the tricks and secrets of Nintendo's Mario game, which of course he loved sharing! Who says you cannot teach an old dog new tricks?
The keywords for next year's 5 energy are freedom, change, fun, travel and adventure. And we could certainly use some of all that! The energy of the 5 makes it especially a great year to travel. Finally, we will be able to do so, as the year progresses. So, start planning that dream vacation now, and look into one or more of those exotic destinations you have had on your bucket list for so many years.
But beware, in a 5 year we can also feel that our energy is scattered, so focusing on what's most important is key.  There will be many shiny objects to distract us in a 5 year, so if we are not mindful, we may find that nothing of importance will get done.
With all the energy of novelty and excitement we may encounter in 2021, we will have to pace ourselves, stay grounded and maintain our self-care practices. If you will be taking risks, first take a closer look, because not all that glitters is gold.