Stepping Into Love With Faith And Trust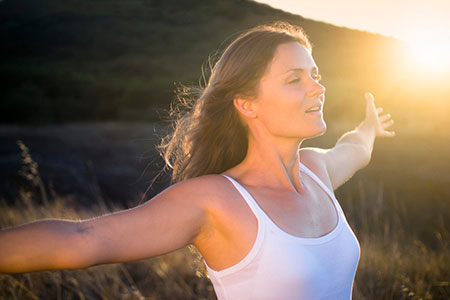 I meditate on moving by faith every day, creating a course of embodying inner trust. I step out into the fresh air and sunshine, surrounded by the artistic heart of God in nature, and I pray for the divine guidance of the day.
Day by day, step by step, the path forward is revealed. It is often shown and channeled to me in the simplest of ways: a whisper in the wind; a sparkle in the water; a bird dancing to her own song in the sky.
Each message received highlights an inner sensing and an external physical movement to integrate it into being. The course starts within, stepping into the sacred space of the self.
The power of movement to internalize a concept is profound. I invite you to take a moment now to literally step into yourself, the sanctuary of your soul.
Simply close your eyes, take a few deep breaths to clear and cleanse your mind, and then begin to mindfully move forward, consciously feeling the contact of the soles of your feet with the ground or floor beneath you.
Feel its temperature, its texture, and the firmness or softness of its support. Notice the articulation in your foot as the heel lifts, presses through the ball of the foot, rises, reaches, and then lowers again until the toes, ball, and heel touch down and plant into place.
Take three slow steps like this, imbued with the intention of traveling deeper into your true self through each one of them. Let the third step bring your feet to join one another side by side, marking your internal sacred space.
Allow yourself some still silent time to stand there, grounded in your own awareness. Keep your eyes closed, your attention inward, and your breathing gentle, as you feel the sturdiness of your legs, and the length and strength of your spine supporting you. Just be there.
Your task is not to seek for love, but merely to seek and find all of the barriers within yourself that you have built against it ~ A Course in Miracles
That is the first step. As the inward travel continues, the heart opens, and a multitude of truths become discovered. Day by day, another step unfolds, gradually fostering release, acceptance, and trust.
As the roots of trust deepen, a rich relationship with oneself and God as the Source develops. In fact, faith or trust require that rich soil of relationship for its roots to grow. When that connectedness is established, the security of the soul is nourished by an unseen network of spiritual resources surging throughout the universe.
In time, and with trust, faith reaches higher and higher, blossoming into love. Trust and faith are the seeds from which love gradually grows. Love is the matured flower, the fruit of faith and inner trust. They are the same substance in different stages of development and expression.
Therefore, stepping into love begins with stepping into trust, which begins with stepping into the self. We cannot attain one without the other. Fortunately, that brings the potential for more love in our lives and world much closer to us than we may realize. It is as near as your own self, one conscious step inward.

About The Author: Lotus Grace

Grace is the epitome of her name, having endured a troubling childhood that paved the way for an adult, gentle, energetic grace that she now delivers to others through the gifts of movement, dance, and through her many intuitive gifts that she shares with her clients. For 30 years, this Hudson Valley, NY State resident has cultivated a unique way of helping others, drawing upon God as her best friend, advisor, and the all-encompassing force that is the bedrock of her faith. Her journey has led her to heal and grow through the mud of life and compassionately support others to do the same. She's immersed in the world's diverse faiths with a core that is deeply rooted in more than three decades of immersion in the spiritual practices and wisdom of devotional lineages. Her inner relationship with God/Spirit has deepened the intuitive sights, sounds, scents, and senses that unfold profoundly when she dances. Since 2004, Grace has run a spiritual healing arts and dance sanctuary, where she intuitively nurtures children, teens, and adults. In her client readings, she taps into her Empathic, Clairvoyant, Clairaudient, Intuitive healing to help clients access the divine guidance they need. If you're searching for a little added Grace, spiritual energy, and the answers you need, you can find Grace at PsychicAccess.com.