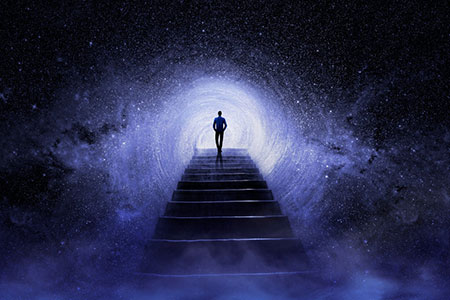 Death and crossing over is a unique process for each individual. At the time of passing, the soul may leave the body in a variety of ways. Sometimes the soul will even leave before the body fully 'shuts down,' eager to transition to the bliss, peace and harmony that awaits on the other side. And sometimes the human ego is not ready to embrace the transition and resists the departure. When we do not want to leave our physical body, we cause ourselves more anxiety and frustration and simply make it harder for our soul to pass into spirit. But there is no reason to resist or fear our passing. I know this for personal experience.
Some of us will also choose to pass quietly into spirit, when our loved ones are not around. My husband chose to pass this way, as I was not in the room when he secretly went. He wanted to spare me the trauma of that decisive moment and did not want me to suffer his loss any more than I needed to.
So, he went quietly to God, and I know that he is in the most beautiful place now that one could ever imagine. I know this because I have seen it myself in a near-death experience, but it wasn't my time to go back then, and therefore I chose to come back.
But what I saw, I will never forget. Imagine a perfectly beautiful spring day, the sun shining so warmly on the most beautiful flowers that you have ever seen. We also return to spirit in a younger state, with no more aches and pains, and we always return home at the age we feel the best. Seeing my departed loved ones again was so amazing and surreal, but as much as I wanted to stay with them, I knew I had to come back to my loved ones here.