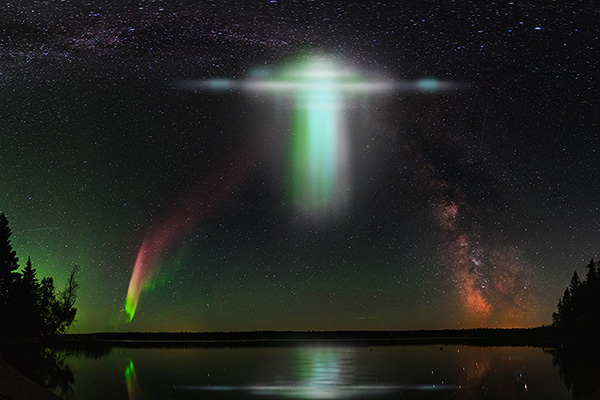 The tradition of Christmas lights and the nativity story of The Star of Bethlehem all took on a whole new meaning for me over the holidays with a mystical experience that changed me forever.
I was doing my usual evening meditation, looking out over the city lights in the distance, beyond the woods that divide my backyard from the neighbors. It was later than usual, which made it an even more peaceful and perfect moment of spiritual bliss.
Sitting there, in a state of completely serenity and oneness with all that is, I suddenly notice unusual lights in the sky hovering close to my home. They were beautiful, white lights hovering in one place, but constantly changing shapes – from a triangle, to a star, then to a circle, and so on. It was unlike anything I had ever seen before!
I wanted to call and tell someone, but it was a bit too late at night for that, and what if I was the only one who could see it? I was also afraid it might vanish as fast as it appeared, and how foolish would I look then?
Meanwhile, my mind was trying to make sense of what I was witnessing. Was this otherworldly? A ghost or angel? An unidentified flying object (UFO)? Alien or earthly technology?
Then I intuitively sent out a telepathic message to the lights, "Please confirm if you are able to connect with my thoughts? If so, please give me a sign."
Suddenly, the apparition shapeshifted from a circle of lights into the shape of the Holy Cross, and then into what looked like a heart. I was in a state of shock. I could not believe my eyes. I wanted to ask it another question, but it disappeared just as swiftly as it had appeared.