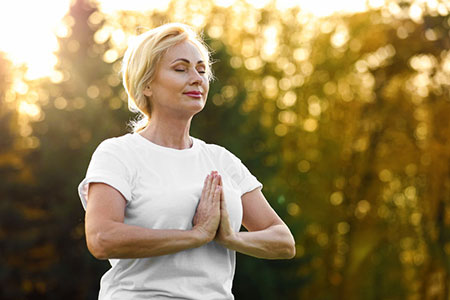 While my son was visiting me a few months ago, the unimaginable happened. Returning home, after I went out for lunch on a Saturday afternoon, I found my son sitting on my living room couch looking very strange.
I called out to him, but he didn't respond. I went up to him and immediately saw that his face was turning blue. His mouth was open, but I could not hear him breathing!
Instinctively, I pushed him down and applied pressure to his chest. All I got was a gurgling sound coming up from his throat. At the same time, I now had 911 on the phone and I was hysterically shouting about what was happening. The operator gave me instructions to continue helping him. I am a small woman, and my son is a burly man, and yet I seemed to have superhuman power and was able to do whatever she said.
In a matter of minutes, a squad of emergency medical technicians (EMTs) arrived. Right away he was placed on a heart monitor, and they set up a defibrillator. We almost lost him. The EMTs then gave him a medication to bring him back. It took two doses to work. Then he started to come around and he did not know where he was.
The EMT told him, "I hope you realize that your mom saved your life!" My son was confused and all he could manage was, "My mom?" I don't think he even understood that he had a mom at this point. Then they put him on a stretcher, gave him oxygen and took him to the hospital. He spent two weeks there. I went to see him every day.
For months before all of this happened, I began having dreams of loved ones who had passed to the Other Side. I sensed that they were somehow furnishing me with important information regarding my son. I felt much love and concern from them for his health and safety. They were somehow teaching me something or guiding me in some way, but I could not recall any of it by the time I woke up from these dreams. I was not sure what to make of it all.
Posted in

Afterlife, Angels, Dreams, Intuition, Life Design, Paranormal Phenomena, Psychic Phenomena, Reincarnation / Past Lives, Spirit Guides, Spirituality
|
Tagged

adversity, angel guidance, angel messages, challenges, divine guidance, divine inspiration, divine intervention, divine self, divine timing, dreaming, Dreams, dreamwork, emotional challenges, God, guardian angel, guidance, gut feelings, higher consciousness, higher self, highest good, incarnation, inner guidance, inner strength, inner voice, instinct, instincts, Intuition, intuitive, life challenges, life drama, life experience, life lessons, lifetime, loved ones, miracles, psychic guidance, psychological challenges, reincarnation, soul evolution, soul growth, soul purpose, spirit communication, spirit contact, spirit guardians, Spirit Guides, spirit messages, spiritual growth, spiritual guidance, spiritual insight, spiritual knowledge, spiritual practice, spiritual protection, spiritual truth, spiritual wisdom, The Other Side, unconditional love
|
Leave a comment