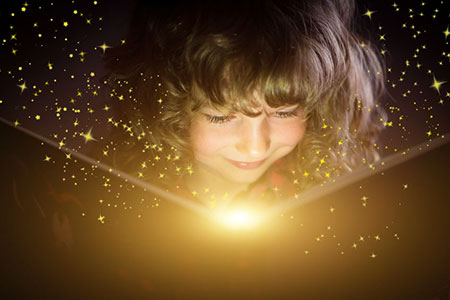 Since childhood, I have always loved fables and allegories, as well as the parables in The Bible. Indeed, one of my favorites is The Widow's Two Mites in Luke 21. As a little girl, I used to listen intently to the story of the poor widow who gave more generously to charity than anyone else in the temple, because she gave all that she had. The life lessons and spiritual wisdom in these stories fascinated me.
Recently, I discovered an amusing tale that deals with both the ego and the need to be pragmatic. Three monks sat on a bankside, each in deep meditation. One of the monks, however, became cold, and this interrupted his ability to meditate. He told the other two that he was heading back to their cabin to find his blanket. Off he went, crossing the stream both ways with no problem. Soon he was back, in next to no time, and as dry as he was when he had left.
A short while later, another monk remembered that he had not left his wet clothes out to dry, so he too needed to head back to the cabin to tend to his laundry. Off he also went. The third monk saw, in amazement, how he easily walked across the water back to the cabin, and when he returned, just like the other monk, he was as dry as he had set off.
Seeing his two fellow monks cross the creek without getting wet infuriated the third monk. "So, you think you are both better than me!" he yelled at them. "Well, I will show you that if you can walk on water, then so can I!"
He ran up to the stream, put his foot on the surface of the water and instantly fell in, waist-deep! As a result, the third monk became even angrier and yet more determined to walk on the water. But time and time again he attempted to cross the creek without getting wet, but to no avail.
Distraught by his many failed attempts, one of the other two monks turned around to his friend and said, "Don't you think it is time we tell him where those stepping stones are?"
This story did not only make me smile, but it also made me reflect upon my life. Indeed, there have been times when I allowed my ego, needlessly, to stand in the way of my better judgment. Like that third monk, I have also allowed myself to become envious and upset by comparing my own achievements to that of others.