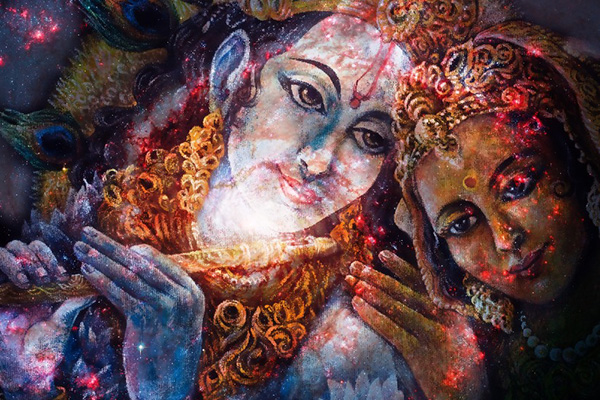 Love is a divine spiritual energy. It originates in the divine heart of the Supreme Personality of Godhead. The internal energy of his love is so strong that it emanates out of his body as love personified, in the form of the Supreme Goddess.
In the spiritual tradition of Bhakti, which is founded on the Vedas, a collection of religious texts originating in ancient India, the Supreme Goddess is identified by the Sanskrit term shakti, the primordial divine feminine energy, and the Supreme God as shaktiman, the divine masculine source of this cosmic energy.
She also bears the name Radha, meaning she who gives the greatest pleasure to him, whom she calls by the name Krishna, the 'all-attractive.' Together, they form the Divine Couple, an eternal reservoir of reciprocal divine love which ever increases.
Love is alive. It is a living, giving, and flowing force. Love, like God, is unlimited and ever-expanding. Divine Love offers its transcendence for us souls in this world to follow, serve, and ultimately return to our original, eternal spiritual nature.
Our spirit, soul or jivatma is therefore an expression of the primordial energy of the shaktiman, which emanates both from and for his love. Whereas Radha's love is infinite, we individual souls are infinitesimal. We merely serve to enhance and celebrate with our supreme existence the Divine Couple's infinite love, which in turn imbues our souls with joy.
One way our soul can serve the joy and union of the Divine Couple in this world is by allowing the spiritual energy of love to flow through our own heart to others. The beauty of true love is that it is never selfish and does not seek to satisfy the demands of the ego. Like a river rippling toward the ocean, divine love courses toward the one it fills with its own essence.