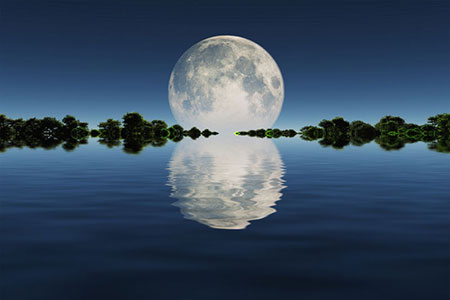 Oh, the Moon! How I love the Moon. What's not to love? I love watching the moon dance on the lake's surface outside our home or just to observe it in the night sky. It is so healing to me.
I remember going outside and just basking in the light of the moon. I remember waiting for it to be full and then putting a big bucket of water in the garden. I would let the light of the moon reflect on the surface and I would prop up my feet on either side of this and just go into the alpha state and meditate.
To this day I will wash my precious stones, like my moonstones and agates, with salt water. After that, on a full moon, I will let them absorb the light. I feel it recharges and cleanses them.
I always agreed with the school of thought that the moon affects the fluids in our bodies, just like the tides of the ocean. I also view the moon as a lovely lady who is in charge of our emotions and feelings; she is the 'bringer of moods'.
Usually you can see her influence very clearly on a full moon. For example, emergency services and police sirens are often more prevalent on the roads, there are more arrests and accidents and people lashing out and doing things they normally wouldn't dare.
There is much power and control to be found in knowing when the different phases of the moon are, and to have the heads up as to how it affects us. The moon also rules all female physiology; she is the mother of all things which are important and necessary for creating life and nurturing. It virtually has an effect on the growth of all living things, including all plants and animals. I call the moon 'she' because of this. She rules over the 'internal ocean' that keeps us all alive.