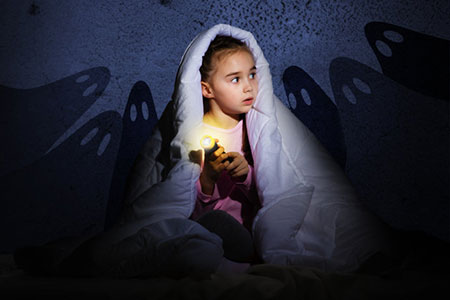 Benevolent spirit energies are everywhere.  Whether it be a loved one who has crossed over, or your spirit guides and angels. Spirit is simply around in every moment of our daily lives.  However, there are also earthbound spirits who have passed, but not yet crossed over. They have unfinished business in this world, or they have difficulty leaving the people and physical spaces that they had a connection to in this life.
These restless, earthbound spirit energies can wreak havoc in our homes and families. When I was a child, I had horrible nightmares. While we only lived on the main floor in my childhood home, I was fine. However, after my father had built the upper level of the house and I was moved into my pretty, girly bedroom, the nightmares began.
I never felt comfortable or secure in my new bedroom. Also, whenever I had to go into the basement, I would have to run down and back up, because of the ominous, icy cold feeling I would experience through my entire body.  The rest of the house however was never an issue.
I later inherited this house, after both my parents had passed.  I did not really want to own it, because even as an adult that same feeling in the upstairs and the basement was still haunting me, while the main floor felt warm and comforting. I refused to go there alone at night, and rarely alone even in the daytime. It was confusing and frustrating to say the least.
Then I learned how to sage and energy cleanse a home properly. My method involves white sage and a small white candle. I go into each room of a house, starting at the furthest room from the door and smudge each corner of the room. I slowly cleanse each corner and ask all unwelcome spirit entities present to follow the light of the candle as we progress through the house, room by room, towards the outside door.