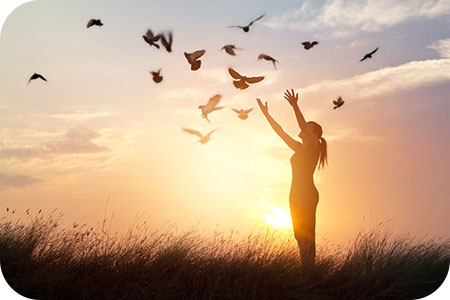 Forgiveness may be the path to a truly happy and fulfilled life. In his book The Forgiveness Solution, Dr. Philip Friedman puts forth the idea that all our emotional concerns, such as judgment, anger, and grievance, come from our inability to forgive. When we hold onto this emotional baggage, it harms everything. Hurt people hurt people. Taken to the extreme, it may lead to self-harm, or harm to others. But there's a way out of this vicious cycle.
The first and most important step is to learn to forgive ourselves and develop, what Dr. Friedman calls 'self-regulation skills.' In essence these skills are defined by the classic Serenity prayer for courage to change what we can, acceptance of what we cannot change, and the wisdom to know the difference. In addition, becoming wholly healthy, physically, emotionally, and spiritually, will better allow self-forgiveness.
When we engage in our daily spiritual practice, we should ideally include a mantra about forgiveness. It may take a while for the idea to take root. Habits take about 30 days to become routine, but after you've begun to forgive, you can let the pain go by the wayside.
Keeping a positive attitude is essential to the process of forgiveness. This doesn't mean that you have to be happy all the time. What is does mean is that setbacks and obstacles are regarded as challenges to overcome, rather than insurmountable hurdles.