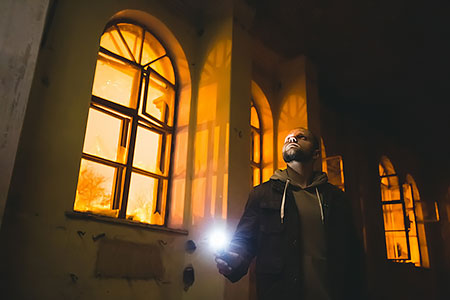 Paranormal investigation and 'ghost hunting' has become very popular in recent years. Due to many television shows and video channels dedicated to this subject, there are many new fans exploring the field. As a psychic medium and empath, as well as an amateur history enthusiast, I also enjoy investigating the paranormal as a matter of both professional and personal curiosity.
How do I associated my passion for history with the paranormal? Well, in my view 'official' history is mostly written by the wealthy and influential, but I personally wish to learn the true history and stories behind the official narrative. And what better way than to get the truth from those who actually lived and experienced those events personally. And since they are generally no longer present in this life, I need to seek them out in the afterlife.
I am currently a member of a local paranormal group in my area. I became interested in working with a paranormal investigation group especially because I wanted to obtain documented, technical evidence of what I have been seeing and hearing in my mind all my life. In return, I believe my gifts also enhance the investigations for the other members of the group.
I have noticed many other groups do not often get good leads on hot spots that are more 'active' than others, nor many significant results, even with all the modern technological devices available. But with our group I have had the privilege and good fortune of getting some decent voice recordings and photos, and profound experiences that I wouldn't have been able to without the efforts and support of the group.
If you are keen to get to become a 'ghost hunter' too, there are several things I would suggest before you get started. Firstly, learn to meditate at least on a basic level, simply because it allows your spiritual or psychic 'senses' to better pick up on paranormal energies.