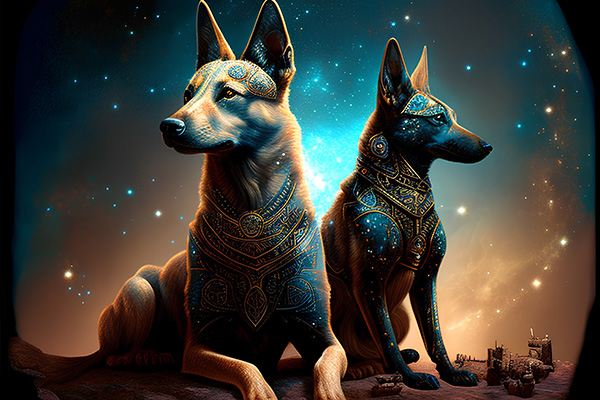 The cat isn't the only pet with a long history of myth and legend. Dogs have played an important role in human culture and spirituality for centuries.
The dog, or "man's best friend," is the subject of many magical tales, wisdom traditions, and folklore throughout the world. Like the cat, dogs were companions of the ancients and are still considered symbols of loyalty, courage and protection.
In Greek mythology, dogs are associated with the goddess Hecate, who is also known as the "dog goddess." She is the goddess of witchcraft, magic, and the crossroads, and is typically depicted in ancient Greek art with a pack of dogs at her side.
Today, the brightest star in the night sky, Sirius, is also known as the Dog Star, because it is traditionally seen as the protector of the night sky. In many cultures, Sirius has been associated with dogs because of its brightness and prominence.
Perhaps the most famous dog in Greek mythology is Cerberus, the three-headed guardian of the underworld. Cerberus not only prevented the dead from leaving the underworld, but also the living from entering it. He was finally captured by the hero Heracles in one of his twelve labors. Another famous Greek dog is Laelaps, a swift dog given by the god Zeus to the hunter Actaeon. Laelaps was so fast that he could catch any prey, but he was also cursed to always catch his prey.