Guiding Earthbound Souls To The Light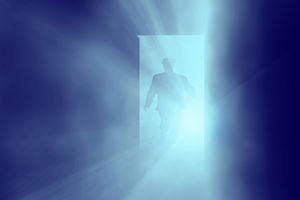 Early one morning, I recently received a message from Judy, a client of mine, to say her close friend had been shot and killed before dawn that day. Judy wanted to know if I could try and communicate with her friend.
It was too soon for spirit communication of any kind, but later that morning I did try and connect as promised. I felt we were dealing with a soul who was stuck, not quite knowing where she was after such a sudden death. I told Judy that we needed to help her friend find her way to spirit, to the light.
I asked her to remotely assist me in helping her friend in order to guide her to the light; I made suggestions to Judy on how to go about this. I felt that Judy's friend was temporarily earth bound and that our guidance and prayers would help her, even if she chose to remain close to loved ones for the time being and make her presence known, until they were able to find some peace with her sad passing.
Faith is the bird that feels the light and sings when the dawn is still dark ~ Rabindranath Tagore
With sudden passing, such as an accident, suicide or murder, the soul can get jolted into a temporary state of confusion. All of us have guides ready to assist us go home to spirit when we cross, but we may, in our confusion temporarily shut them out.
The souls of children are sometimes known to stay connected to the earth plane, because they feel their young lives were abruptly shortened, and very often the grief of a parent or family member causes the child to feel they need to stay close, to comfort the grieving ones. When such a loving young soul finds it hard to move on, they will need reassurance that everyone they leave behind will manage, and will be reunited with them one day, and that it's time for them to let go, and go home to spirit.
We can all reach out and help those who are either ready to leave, or have already left their body. A few years ago my friend and I sat with her husband in hospice as he was about to cross over, and we encouraged him to let go of his emaciated body and return to spirit. Just a couple of months later her husband communicated with me through a medium describing his latter days exactly. He thanked me for helping him to let go.
Dare to reach out your hand into the darkness, to pull another hand into the light ~ Norman B. Rice
When we go home to spirit, we aren't judged or sent to hell.  Some who have committed murder can remain earthbound for fear of being judged. Suicides tend to stay in the darkness, until they are helped to seek the light Source will never turn its back on any soul, so with a little help and self-forgiveness they can find the light.
We can all help these earthbound souls by sending thoughts of love and light, and the guides and angels will do the rest. A good medium can help, should you find your environment is haunted.
Our loving thoughts are received by those on the other side. I often send them when I connect with my father, who crossed over in 2005, and I do feel his response. You can do this too. With eyes closed, sit quietly and feel a response from a loved one –they are much closer than you think.
When we arrive in spirit, we too can watch over those we care about from the other side as our soul continues to evolve.

About The Author: Shani

Shani is a qualified practitioner in Reiki, aromatherapy, reflexology, body spin, and animal telepathy who received psychic development training at the Arthur Findlay College of Psychic Research in England. A published writer, her articles and predictions have appeared in several respected magazines and on psychic websites, and she has read for many celebrities and even heads of state in Africa. Though she was born in London, Shani has traveled the globe and has studied the art of African Mysticism, bringing her unique flavor to those seeking her incredible talents. Get a reading with Shani at PsychicAccess.com.


This site uses Akismet to reduce spam. Learn how your comment data is processed.