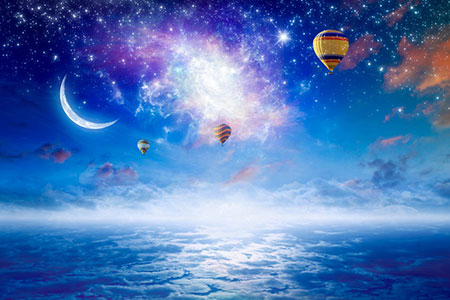 Along with the Full Moon, the New Moon is one of the most defining phases of the lunar cycle, because the Sun, Moon and Earth are all in perfect alignment during this phase. This month's New Moon occurs today, in the mid-morning hours, while the Dark Moon happened last night. Both phases are potent to utilize intentionally.
The lunar phases are known to affect the ocean tides and all water on the Earth. Similarly, in Astrology, the Moon represents everything associated with the water element, such as our mood, emotions and dreams. The Moon in our natal chart also shapes the blueprint of our inherent skills, gifts, talents, and psychic abilities.
Since ancient times, the lunar cycle has been utilized as a tool for conscious creating, manifesting and spiritual practice. In the case of the New Moon, the Moon find itself directly between the Earth and the Sun. It reaches a point when it becomes totally 'dark,' with no sunlight illuminating it at all. The Moon then emerges again as a tiny sliver of light, known as the New Moon.
The transition into the New Moon actually presents us with two powerful points of lunar energy to work with – both the Dark Moon's total blackout, and New Moon's re-illumination.
The Dark Moon is a short but powerful time for soul-searching. It is the deep 'cocoon phase,' before the shell of rebirth cracks open. It represents a moment of release of that which is no longer serving us. The Dark Moon is the ideal time to enter into stillness, re-evaluate goals, and plant new seeds of desire. The darkness is a potent point of creativity. Pay close attention to any dreams or visions you may had in the past 24 hours. It is worth being very intentional at this time of the month.