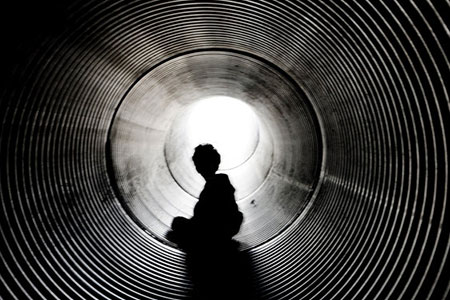 My grandson, his wife and their two-year-old boy, as well as their cat and dog, recently all came to live with me for a couple of months, while waiting to move into their new home. Normally my house is exceptionally quiet, so I absolutely enjoyed the noisy hustle and bustle of having a young family under my roof.
Because both parents work, their son goes to day care twice a week. They leave just after 6am in the morning and he is picked up again at 3pm at the end of his mom's workday. The entire time they stayed with me this schedule never wavered.
Late one morning, just before noon, I was sitting quietly in my chair catching up on some knitting. I was home alone and there was little going on in the house, aside from the regular activity of the cat and dog. It therefore took me by surprise when I suddenly heard a child crying?
The wailing sound briefly came from the kitchen area, where the back door is located. I thought I was imagining things, so went back to knitting. All was quiet for a few minutes, but then the crying started again! Subconsciously, I assumed it must be my granddaughter who was home early with her son, so I expected them to come into the living room soon. But nothing further happened.
Then I heard the crying again. This time it was loud and clear enough that I had to get up and investigate. But there was no one to be found in the kitchen. I looked out the window thinking maybe they might have gone back to the car, except there was nothing in the driveway. I then opened the back door, but there was no one there. I then decided I was either imagining things, or maybe it was the cat or dog I heard.