Connect With The Light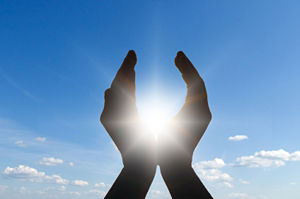 Why are so many people feeling depressed these days? One of the main reasons are the slower economy, and not enough time to do the things they want to do.
Many of us do not have enough time with family. Time is flying by too quickly and it's easy to not be grounded and connected to the Light. Therefore, smiles too often turn to upside down happy faces!
When this happens it is important to get that time alone with yourself first, before you reach out to others. Take the time to get in alignment with who you are, and hear that quiet voice telling you what you really should be doing. With some solitude and contemplation we can make some course corrections in our lives and get the Light back in our lives.
Light gives of itself freely, filling all available space.  It does not seek anything in return; it asks not whether you are friend or foe.  It gives of itself and is not thereby diminished  ~ Michael Strassfeld
Once connected to the Light we have a happier and healthier body, and our soul can shine brighter, because we are channeling positive thoughts. We can then also connect with other light beings, who are on the same frequency. Being connected to the Light can bring more goodness into our lives, and we are then in touch with the greater good on Earth.
If you're struggling with getting on that path to being connected to the Light and living your best life, contact me at PsychicAccess.com and let me teach you ways to connect with the Light and have it work for you. Until then, Let your Light shine!

About The Author: Moon Goddess

Moon Goddess is a third generation empathic healer and seer. She started to give healing readings to people more than 20 years ago. She has always been interested and studied all things metaphysical from a young age. Being hypersensitive she can feel and see things before they happen. Utilizing the Tarot, and with the help of her Guides, she is a source of support for many people all over the world. After he passed over, her grandfather kept his promise and came back to say goodbye and gave her the most amazing experience. Moon knows there truly is a Heaven, and it is wonderful! Sharing her experience has helped many people after they have lost someone, or anyone experiencing some form of grief. Get a reading with Moon Goddess now at PsychicAccess.com.