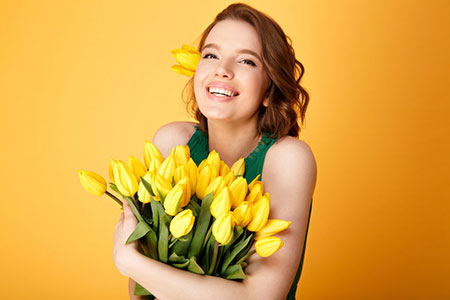 I recently had a client who called in for a psychic reading, who told me that she had recently sent a bouquet of flowers to herself, and had it delivered to her at work.
At first I thought it odd, but then, after having some time to think about it, I realized what a brilliant idea it actually was. Such a simple, yet powerful act of self-love. How often do we do nice things for ourselves in this way?
We are often so consumed with other people's attitude or behavior toward us, or seeking the love and approval of another, that we forget to love ourselves first. For once when we truly love ourselves, we can receive so much more of what we're looking for from others, and we are also able to love others more, in a way that they too deserve.
My client who sent flowers to herself also told me that she found it oddly synchronistic that the very first bouquet she spotted, on the first floral website she visited, contained two flower varieties that were highly significant to her. These flowers represented happy moments she has shared with the man she loved, and also held for her a secret, intuitive message that she considered a sign.
It made me think of the basic principle of the Law of Attraction. The energy we put out, is what we ultimately get back. My client was not only sending love to herself with these flowers, she was also working a little bit of magical alchemy without even realizing it!