Grandma's Love Was The Best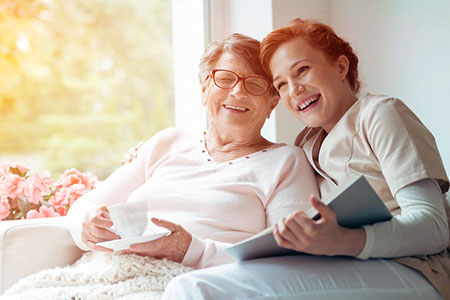 I remember what Grandma was wearing when she passed away. I also recall exactly what she said and everything else that happened that day, right down to the violets I picked in the backyard to place in her hand. She was wearing an oversized Winnie the Pooh T-shirt that could have been a night dress, I'm not sure. She had her red robe on and black slippers lined with greyish fluff.
She was told she was being taken to the nursing home, but it was actually hospice she would be going to. She could no longer walk and had fallen, and no one was able to pick her up. Not even myself. I wish I could, but I just was not able to.
I sensed she wasn't to going be with us very much, and I was very upset about it. But constantly having to give her blood transfusions and her being in so much pain, it was the right decision at the time. I have made peace with that now.
Settling her into the hospice, Grandma was adamant the bed be taken out, as it was unbearably uncomfortable. She kept saying, "I just want to go home and die. This is no way to live. I'm ready to go." She also told me, if I ever needed her after she had gone, all I would have to do is call her name, and she would be there for me. Grandma kept her promise to me. To this day I still feel her around me all the time, especially when I think of her and call her name.
I think the worst thing I ever experienced in my entire life was walking into that hospice room after she had passed and seeing her shell of a body. She was no longer there, obviously, but she was still around. I felt she was somewhere in the room looking at us and saying her goodbyes.
Pain had made her very bitter towards the end of her life. She wasn't herself anymore because she was on so many different strong medications and invasive treatments. I sensed that she longed to be with her departed husband and her dear mother who passed when she was just a young girl. Her mom was also a psychic and apparently really good with things like Numerology and dreaming lucky numbers. I loved hearing all those stories.
If you are lucky enough to have your grandmother with you, sit and talk with her sometime. Ask her big questions, like what's the secret to a happy marriage, and little ones, like when was the first time she put on lipstick ~ Erin Bried
This morning I was looking for something in a closet and found her old slippers. Those black ones with the fluffy grey lining. I pulled them out and put them at the bottom of my bed, toes pointed in. It is nice to have something that belonged to her nearby in these challenging times the world is currently going through. I also have her red robe and a few other personal things she wanted me to have. But the best memories are in my heart, and in my soul.
I have no doubt our souls are connected, and I will see her again someday. Meanwhile, I will do my best to live a joyful life that will resemble how she lived her life. She was always happy and looked on the bright side. She also knew how to laugh and found certain things funny that most people would roll their eyes at. She once told me she had every intention to have a lot of fun on the Other Side and I believe she is. Some of the dreams I have had of her since are of her certainly having a good ole' time.
I will never forget all the love she gave us, both me and my siblings, and how she treated us and cared for all of us. She was a very kind, strong woman and while she wasn't perfect, she was perfect as my grandmother. Her love was the best I have ever received from anyone, and always will be. I thank her for that. It was the best gift anyone could ever give a child.

About The Author: Moon Goddess

Moon Goddess is a third generation empathic healer and seer. She started to give healing readings to people more than 20 years ago. She has always been interested and studied all things metaphysical from a young age. Being hypersensitive she can feel and see things before they happen. Utilizing the Tarot, and with the help of her Guides, she is a source of support for many people all over the world. After he passed over, her grandfather kept his promise and came back to say goodbye and gave her the most amazing experience. Moon knows there truly is a Heaven, and it is wonderful! Sharing her experience has helped many people after they have lost someone, or anyone experiencing some form of grief. Get a reading with Moon Goddess now at PsychicAccess.com.