Angels From Heaven And Earth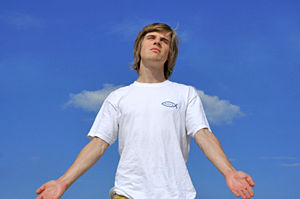 I have met many people in my day that I could have bet my life were angels. They came in at just the right time. It would be a message or a sign; something to just direct me in a way so that I could stay on course.
Whenever I ask God to give me a sign, these people, or shall I say 'angels' appear in my life. It would sometimes be nothing more than a casual conversation in an isle at the grocery store, or at the library – random communication with strangers. I these memorable moments I always get a message that answers questions to things I need to know from the Universe.
I have always known that when we are connected to the Light, or the Divine, God works through everyone to helps us all stay in tune, or on a higher frequency. If we listen, and if we are truly aware, we will never be misled on our journey on this planet.
Saint Anthony said, in his solitude, he sometimes encountered devils who looked like angels, and other times he found angels who looked like devils. When asked how he could tell the difference, the saint said that you can only tell which is which by the way you feel after the creature has left your company ~ Elizabeth Gilbert
We must always be open to the messages that we are given through our interactions with people. Sometimes, of course, we will encounter negative beings. They are the souls we are to show the Light to through a smile or a positive word or two. In giving that person a compliment we become the ones who are heaven-sent in their lives. When we step up and say just the right thing to someone in need of a kind word or insight we are the ones who are then serving as angels.
I believe that there are heaven-sent angels, as well as earth angels – all different kinds of angels to help us stay on the right path to enlightenment and self-awareness, and to keep us going forward and not backwards.
I love it when I encounter an ethereal angel that is not of this world. They are gorgeous and look nothing like us, they are so beautiful and their colors are nothing like the colors that we are familiar with. I love it, because when I can be in their presence it's the best feeling in the world – so amazing.
In order for us to encounter one of these beings all we need to do is ask for an encounter or a message. It's just that simple. Knock and the door shall be opened, ask and you shall receive.

About The Author: Moon Goddess

Moon Goddess is a third generation empathic healer and seer. She started to give healing readings to people more than 20 years ago. She has always been interested and studied all things metaphysical from a young age. Being hypersensitive she can feel and see things before they happen. Utilizing the Tarot, and with the help of her Guides, she is a source of support for many people all over the world. After he passed over, her grandfather kept his promise and came back to say goodbye and gave her the most amazing experience. Moon knows there truly is a Heaven, and it is wonderful! Sharing her experience has helped many people after they have lost someone, or anyone experiencing some form of grief. Get a reading with Moon Goddess now at PsychicAccess.com.


This site uses Akismet to reduce spam. Learn how your comment data is processed.