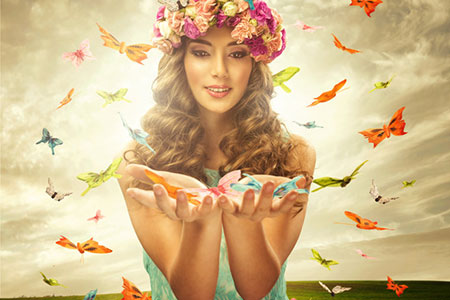 Both experienced and novice psychics will tell you the spirit realm is in constant contact with the physical world. Although spirit may not communicate in the way we do, their messages are constantly here for us to see, hear and feel – if we know how and where to look for it.
The spirit realm exists beyond our time and space, but spirit is still able to interact with us. Hollywood movies would have us believe they can make objects float through the air, but it's much more subtle than that.
Interference with electronic devices, such as clocks or laptops, is common when spirit is present. Take note if your computer seems stuck on a particular page or a clock stops at a certain time. Your spirit guardian may be sending an important message.
Static physical objects like family pictures may also change in the presence of a departed loved one. You may notice a photograph becoming blurrier or curling up on one side. Sometimes the frame is shifted or moved.
Take a walk outside every day. Are you seeing birds or butterflies? Both are messengers of spirits, so pay close attention to what you see, including their colors and patterns, and look up the meaning later. If you're lucky a butterfly may land on you. Up in the skies, cloud formations, rainbows, and falling stars are all associated with spiritual messages.
Psychic or intuitive experiences is another way spirits speak to us. Have you ever felt like you 'hear your name' being spoken or called, or 'feel the touch' of a hand on your shoulder, while you are alone in a room? This is a sure sign a spirit presence is nearby.
Posted in

Afterlife, Dreams, Lifestyle, Metaphysics, Paranormal Phenomena, Psychic Phenomena, Self-Help, Spirit Guides, Technology
|
Tagged

angel guidance, angel messages, angel protection, awareness, conscious living, divine guidance, dream analysis, dream interpretation, dream journal, dreams, dreamwork, guidance, life design, lifestyle, loved ones, paranormal phenomena, patterns, psychic awareness, psychic dreams, psychic experiences, psychic guidance, signals, signs, spirit, spirit contact, spirit guardians, spirit guidance, spirit guides, spirit messages, spirit realm, spirit signs, spiritual awareness, spiritual guidance, spiritual lifestyle, spiritual messages, spiritual practice, spiritual protection, spirituality, synchronicity
|
Leave a comment