Claiming The Personal Power Of 'Sat Nam'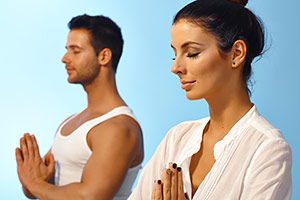 In addition to being a psychic and energy healer, I am also a Kundalini yoga instructor. At the end of every Kundalini yoga class the instructor says to the students: "sat nam." The class then repeats those words back to the instructor.
The powerful words "sat nam" translated means "I am truth," or "truth is my identity," or ""whose name is truth." Sat means "everlasting" or "true," and nam means "name". It is similar to the greeting "Namaste," which means "the divine within me acknowledges the divinity within you. To me these words have even more power and meaning during the Aquarian age.
Most people are other people. Their thoughts are someone else's opinions, their lives a mimicry, their passions a quotation ~ Oscar Wilde
In the modern world of social networking and communication technology more and more people are trying to define us, or gossip about us, or criticize us. Sat nam reminds us that no one else gets to determine our identity. No one else can tell us who were are. No one else can tell others who we are or should be.
Stating "Sat nam" as an affirmation is a powerful way to re-claim your grace, dignity and power during adversity, challenge and changing times. Try this powerful meditation to take back your power:
1. Sit in the easy pose (on the ground, legs bent, spine straight).
2. Close your eyes.
Never be bullied into silence. Never allow yourself to be made a victim. Accept no one's definition of your life, but define yourself ~ Harvey Fierstein
3. Roll your eyes up to your brow point, as if you are looking at something on your forehead, while your eyes are closed.
4. As you inhale, mentally repeat the word to yourself "sat.'
5. When you exhale, mentally repeat to yourself "nam."
6. Continue with long, deep breathing through the nose for eleven minutes. If this is too hard at first, start with three minutes and work your way up to a longer duration.
Our greatest powers are our freedom, our own identity and our truth. Claim yours today with this powerful mantra. Sat nam!

About The Author: Satya

Satya lives in Northern California and is a natural Clairvoyant, Empath, Conduit, teacher, author, animal lover, healer, Reiki Master and an advanced yoga instructor. She has provided valuable psychic assistance to Hollywood stars, athletes, and everyone else in-between. A multi-layered Intuitive, with many unique gifts at her disposal, she can give you a doorway into the past as well as a gateway to a happier future. With her long distance energy work, she provides healing for people and animals too! She instantly spots karmic connections from past lives that directly affect current situations, helping clients to move through them quickly. For accurate solutions on just about any pressing problem, you can find Satya at PsychicAccess.com.