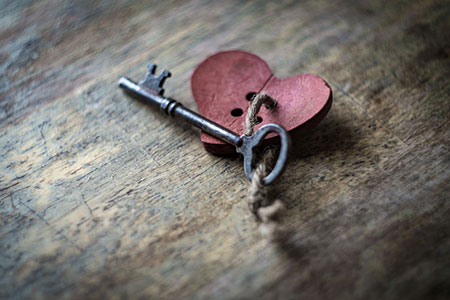 I received a lovely necklace as a gift recently, with a beautiful center stone and a small 'skeleton key' at the bottom. A skeleton key is a type of master key in which the serrated edge has been removed so that it can open numerous locks .I've seen these keys before, and remembered vaguely the symbolism, but I decided to refresh my knowledge by researching further the significance of this symbol.
Katie Pifer writes that keys have had a variety of spiritual symbolisms attached to it "for as long as man has had locks.  They are connected with gateways and portals, doorways to the unknown, knowledge, mysteries, powers, initiations, new ways, forbidden things and answers to curious questions."
Keys symbolize our ability to gain access to those things of either a material or spiritual nature that are of the greatest importance to us. The key is an object symbolic not only of opening doors to new paths that align with our desires, but also closing and locking doors to those things that we wish to leave behind.
Skeleton keys are considered to be a more powerful symbol, since they can open many different locks. Thus, they have been perceived to be the powerful 'keys to the Kingdom,' or the key to that someone special's heart, and so on.
Skeleton Keys are traditionally also worn as powerful amulets. It is thought to be good luck to touch a key when you are entering a challenging or dangerous situation, because keys are believed to keep you safe. They are also symbolic of transformation, freedom and liberation.