Romancing The Colors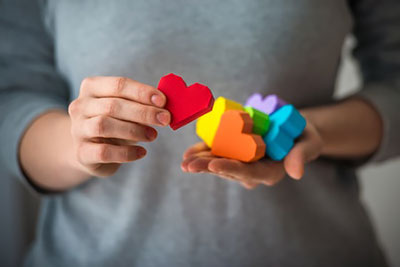 Color therapy  is a well-established practice when it comes to putting right what could be wrong in our lives – be it emotional or physical. The ways in which we can make use of color are broad and varied.
For example, we can wear color in our clothes and jewelry, burn gorgeous colored candles, cook beautifully colored foods, work with color while meditating and even bathe in color when we so wish.
Color therapy can also be beneficially applied in our romantic life. So, whether your are single or in a relationship, why not consider applying a little color therapy magic to your romantic life?
Maybe you currently feel you are never going to meet your soulmate. Are you afraid of history repeating itself and think that you may never, ever find 'the one?' Or maybe you feel you may have found your soulmate, but you are not exactly sure about this. Or maybe you would just like more passion and commitment in your life? Color therapy could play a significant part in bringing your romantic hopes and desires to fruition.
Color is the fruit of life ~ Guillaume Apollinaire
Yellow Attracts Your Ideal Partner
Feel you may have found your perfect partner, but they do not notice you yet? Wear that stunning color yellow to help draw them closer in your direction! Indeed, the color yellow helps you to radiate charm and confidence and present yourself at your most attractive to the other party.
Wearing yellow should also contribute to stopping you from being so shy and therefore remain unnoticed by that special person. Yellow also radiates the purest of energies, making you all the more irresistible.
Before using this amazing color to attract a particular person, first ensure that they are really who you want, because as the saying goes, you really do have to be careful what you wish for.
Pink Attract Love
You may have heard the saying, "Pink makes the boys wink." Well, it can also really help to signal your romantic intentions. Indeed, by surrounding yourself (subtly of course) with pink, it should contribute to making you even more loving, both to others and yourself. The loving persona that you project to the world, therefore, should help to attract the love you are seeking.
Orange Mends Your Broken Heart

The beautiful color orange releases tension wherever you may feel it and will bring some happiness and joy into your life.  Should you be feeling broken hearted, wearing orange and having the color around you in a comfortable kind of way, can have a powerful and positive healing effect. Orange can help you to let go of the past, remove ill feelings, increase your enthusiasm and recognize new relationship opportunities when they appear.
I have always wanted my colours to sing ~ Paul Delvaux
Green Invites Commitment
I have both seen and heard it a thousand times (if not more)- they love you, but no they will not commit. Should this also be the case for you, then you need to retain their interest with that magical and gorgeous color green. Green represents unconditional love, generosity and compassion. It can help to heal your heart and teach your partner to unconditionally give of themselves.
In simple terms, green aids in both the giving and taking of love, thus helping to keep the balance right in your relationship. Now, why this is so important, teaches spirit, is because where there is balance, there is commitment and harmony, and where this is imbalance,= we can have problems. Green also represents peace, hope and contentment.
Should you be seeking long-term commitment, such as marriage, with your partner, however, you need to work with either indigo or blue instead.
Purple Attracts Passion
Purple undeniably represents passion so ensure that your loved one enjoys purple fruit, such as succulent grapes. You could also dress your bed with passion-stirring purple cushions and covers, as well as have some beautiful purple candles burning gently in your bedroom. In doing so, it will certainly help keep the passion in your relationship alive.
Incidentally, red can have a similar effect to purple when it comes to both arousing passion and keeping it alive. Nevertheless, you do need to remember that red is an incredibly powerful color, often linked with anger, so if you decide to work with it romantically, do proceed with caution.

About The Author: Lucinda

Lucinda is a highly trained Intuitive and Empath, living in a beautiful village in North Yorkshire, England. She possesses the rare gift of understanding a client's personal pain and has been through many challenges, herself, which has only made her stronger! It is both her calling and her happiness to help those in need. And whenever she needs a little help herself, her Guides are always there to assist in her development and provide clear interpretations for her clients. Prediction has always been a great tool she could count on to accurately foretell events, but Lucinda also draws on her expertise with Dream Interpretation, Numerology, Angel Cards, Law of Attraction and Life Coaching to provide full and detailed solutions to any problem. A member of AMORC and Beyond Freedom Evolution, she provides inspiration, education and personal support for spiritual development. If you'd like answers or want to attract your desires, you can find Lucinda at PsychicAccess.com.