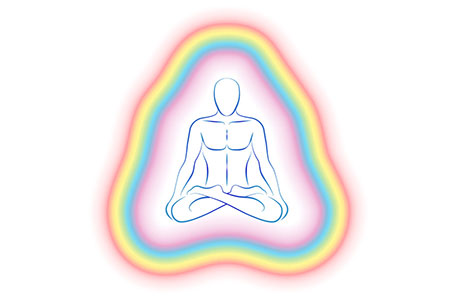 The existence of the aura has been known since ancient times, that is why one finds it in religious artwork and esoteric iconography. Some people think of it as a halo or glow around the body, as depicted in any of these images, but the truth is the aura is not something separate that surrounds or is attached to the body.
The aura is an electromagnetic energy field, also known as a biofield, that emanates from all living beings. The aura is not 'around the body,' but instead more like a light radiating from within the physical body.
Some clairvoyants can see the entire aura, which is shaped like an egg around the person. A person's aura can extend as a much a meter in diameter beyond the body.
Our aura is affected by our physical, mental, and emotional energy states. It reflects our personal energy frequencies and how we think and feel.
If we are in a positive state of consciousness, and we are calm, relaxed, grounded and centered, our aura will present as clear and light. In such states, you will see different patterns of energy and colors above the physical body of the people you observe, especially around the head. It is in an expanded state of consciousness.
But if we are stressed, disconnected, drained, or facing intense life challenges, a darker, heavier will reflect these imbalances and negative energies.
Because the aura is an electromagnetic energy, it acts like a 'magnet.' The energy charge it radiates sets up an electric field that attracts complementary energies and repels incompatible energies. It therefore determines what types of energies we attract into our life.