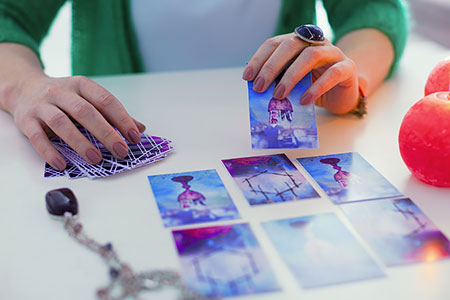 During this past week alone, several people from different walks of life have asked me this very question. Yes, anyone can learn, but as some of my Tarot students have shown, it's the passion you have for Tarot that makes the difference, and that can turn someone into a reader with a difference.
Tarot readings can be used for one's personal growth only, or for doing readings for self and others. Often individuals learn the Tarot of their own volition, paying particular attention to its imagery and symbolism, as they develop their skill with practice, practice, and more practice.
Once they feel they can trust their higher self and their spirit guides, and feel they are being directed to the symbols and imagery in Tarot, which will kick start the required information to be revealed, they will be confident to do Tarot readings.
A good teacher or mentor will always encourage a student to be guided by the way the Tarot talks to them, and not just by learning 'parrot fashion' the many meanings each card may have.
It is the language of symbols which helps us more easily tune into the unconscious mind, especially when there is not always time available to spend many hours doing psychic development, and going within and meditating before a reading.
Many Tarot readers work with various spreads, or layouts, to help them answer specific questions and to define events, timing, important influences and important people in the questioner's life. Tarot helps us find clarity as to the direction in which we are headed and even helps identify blocks which may lie ahead.
I have in my collection at least fifteen Tarot decks, but one or two would suffice for most people. I just love the way talented people have been able to bring Tarot to life in their own Tarot deck design, using their own imagery, shapes and color.