Islam
Published
July 7, 2018
|
By
Lucinda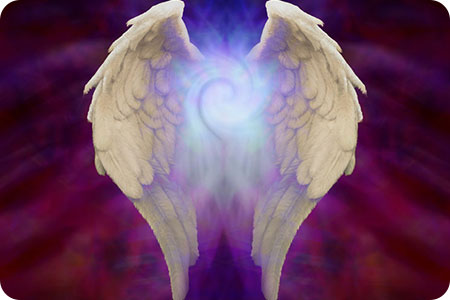 Gabriel is known as the angel of communication and God's messenger in the Abrahamic religious traditions of Judaism, Christianity and Islam. The Bible tells us it was he who brought the message of Christ's birth to mankind. As the great communicator Archangel Gabriel can also help us in speaking our piece in life, and empower yourself as a result.
Very often seen with his trumpet in religious art, Gabriel brings us messages from the spirit realm during our sleeping hours. His fabulous angelic presence emanates the most intense white light, which brings about purification wherever it is required.
Gabriel is associated with the element of water. So, whenever you find yourself near a river, the sea, or a lake, you should find that his messages bring particular focus and complete clarity of thought. In fact, Gabriel uses water to its best effect by purifying one's soul, and helping us to reflect on any matters that may be on our mind.
Posted in

Angels, Chakra Readings, Conscious Creation, Crystals & Stones, Dreams, Healing, Meditation, Metaphysics, Spirit Guides, Spirituality
|
Tagged

angel readings, Angels, archangel, bible, candles, ceremony, chant, christianity, circle, cleansing, clearing, communication, creativity, crystal, crystals and stones, dreams, elements, fear, god, guidance, ideas, inner voice, inspiration, Islam, jesus christ, Judaism, life coach, meditation, music, purification, religion, ritual, scrying, self-belief, self-confidence, self-expression, sleep, spiritual messages, subconscious, subliminal, throat chakra, water
|
1 Comment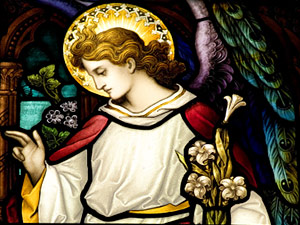 Like his fellow archangel Michael, Gabriel is one of only a handful of angels mentioned by name in multiple faith traditions. His name means "Strength of God," and he is powerfully associated with dreams, visions, and messages.
In the Christian tradition Gabriel was the angel who delivered the news of Jesus' birth to Mary, and in the Muslim faith he delivered the words of the Koran to Muhammad.
Traditional depictions of Gabriel show a tall, silver-haired figure in flowing white, or grey robes. Some have said he is actually a female figure, or that angels have no gender. Naturally Gabriel then is associated with the Moon, the astrological sign of Cancer, and feminine energy.
Perhaps Gabriel's most important role is that of messenger. When invoking this archangel, consider what messages you need to receive. Are you listening properly when awake? Is there a theme in your dreams that means more than may be expected? This is when calling upon the archangel Gabriel can be very meaningful. Continue reading →
Posted in

Angels, Crystals & Stones, Dreams, Life Design, Metaphysics, Self-Help, Spirit Guides, Spirituality
|
Tagged

angel, angel readings, Angels, archangel, book of life, cancer, candles, colors, compassion, crystals and stones, dream analysis, dreams, faith, feminine, gratitude, intuition, Islam, jesus christ, life, moon, moonstone, mother mary, Muhammad, mysticism, psychic abilities, psychic attunement, psychic awareness, religion, spiritual messages, stones, traditions, visions
|
Leave a comment