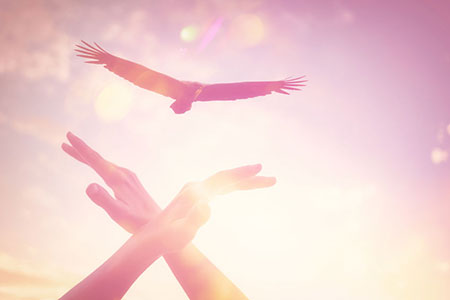 There are three primary Laws of Grace that function under the overarching Law of Attraction. Grace is generally associated with divine support or spiritual help, but in this context it simply means that we are always free to choose again.
The Law of Love
The first Law of Grace is the Law of Love. The Law of Love does not refer to feelings, sentiments or emotions. Too often it is assumed that love is a feeling we get when we are with someone, but in metaphysics and spirituality love is not a feeling.
Instead, spiritual love is choosing to accept others as they are and to want what is best for them. What most of us know as 'love' today is actually 'like,' because to like someone or something is conditional. Real love, on the other hand, has no conditions. It is unconditional.
There is also a common belief about 'love' that can be very damaging to relationships. Sometimes we create emotional attachments to future events and declare that "this is love." Yet, it is impossible to love a future other – either you love a person, or you do not.
When people conjure up extensive images and stories about a future version of another person and attach their mental and emotional attention to these things, they often create a strong sense of painful longing, which creates within them the desire to change the other person.
It is this painful yearning that is the key to understanding, because with the Law of Attraction like always attracts like. Painful longing can only ever attract more pain. It does not even matter how compatible two souls are in this life, if one of them is participating in such a painful longing, then pain will inevitably become the result of the relationship.
Love is unconditional acceptance and there is only one love. Therefore, Buddhists believe one cannot have friends and enemies. If you have enemies then eventually all of your friends will become enemies, and vice versa.